Varied experience is exactly what Lisa Mantchev's protagonist seeks in Someday, Narwhal (Paula Wiseman/Simon & Schuster, $17.99). Poor tiny Narwhal, whose emotions are perfectly captured in Hyewon Yum's expressive pictures, has grown tired of her fishbowl-confined landscape. Her friends thus help her find the courage to venture beyond the front door, where she discovers a whole world at her flippers. Ages 0-5.

$17.99
ISBN: 9781481479707
Availability: Special Order—Subject to Availability
Published: Simon & Schuster/Paula Wiseman Books - October 17th, 2017
---
Mark Gonzales has created a deeply personal story with a universal message in Yo Soy Muslim: A Father's Letter to his Daughter (Salaam Reads, $17.99). Mehrdokht Amini's detailed and vibrant illustrations of landscape, textiles, facial expressions, and skin tones complement the text in celebrating multicultural identities.

$17.99
ISBN: 9781481489362
Availability: In Stock—Click for Locations
Published: Salaam Reads / Simon & Schuster Books for You - August 29th, 2017
---
Look closely at the Statue of Liberty—especially Her Right Foot (Chronicle, $19.99): "She is going somewhere! She is on the move!" In his casual, conversational style, Dave Eggers takes readers on a journey from France to New York and introduces us to little-known facts about this iconic symbol. Artist Shawn Harris uses cut paper and India ink to illustrate the story, drawing our attention to the details as Eggers asks us to pause, think, and discuss along the way.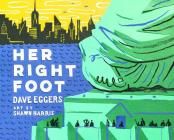 $19.99
ISBN: 9781452162812
Availability: In Stock—Click for Locations
Published: Chronicle Books - September 19th, 2017
---
Pages