This is a mind bending, time traveling, hallucinatory science fiction graphic novel by the comics master, Dan Clowes, creator of Ghost World, David Boring, Wilson, Mister Wonderful, to name only a few. What more must I say? Clowes has assembled a richly plotted gem here, thick with workings of a well-wrought mystery, Patience is a book that reveals itself slowly. This is a tragic love story and while Clowes is a realist writer, his adoption of surrealism, and sometimes absurdism, have achieved their zenith here. Patience is at the high point of comics craft, layered and deep. Truly one of the best of the year by one of the best cartoonist alive. Adam Waterreus

$29.99
ISBN: 9781606999059
Availability: Not On Our Shelves—Ships in 1-5 Days
Published: Fantagraphics - March 21st, 2016
---
Finally published as a complete whole, Last Look, is the completed opus by Charles Burns (originally published as the trilogy, X'd Out, The Hive, and Sugar Skull) and well worth picking up in this final bound volume. Follow Doug as he navigates the complexities of his past in dreams and in fragments of memories. His drug filled, art obsessed self, finds love only to have it slowly fall apart. But why? That's what this fantastical, nightmarish, pseudo-Freudian dream landscape is all about. Heartbreaking, expertly crafted, brilliantly paced, Last Look earns its place among some of the finest in comics craftsmanship of the last few years.

$29.95
ISBN: 9780375715174
Availability: Special Order—Subject to Availability
Published: Pantheon - October 4th, 2016
---
As the foreword says, if you're a lover of the blues then this book is for you! But let's also include lovers of music in general, or even music legends specifically, because that's exactly what Robert Johnson was: living a rough and wild life, hard drinking, hard playing, with uncanny and wild abilities on the guitar, and dead by the (now famous) age of 27. Love in Vain is a dense and magical narrative, hypnotic in pacing and delirious in the world it details. Mezzo's fierce black inking and thick lines give the images a heavy realness that, like Johnson's hard-played music, forces itself into your psyche. This is a compelling and jarring read with a narrative finale which carries with it a historical and cultural punch to the stomach.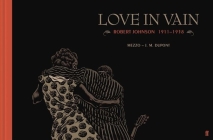 $29.95
ISBN: 9780571328833
Availability: Not On Our Shelves—Ships in 1-5 Days
Published: Faber & Faber Social - December 13th, 2016
---
Pages