Are you a fan of rigorously researched historical fiction and wilderness survival drama? How about high-stakes treasure hunts, esoteric bear facts, and a pulse of anti-imperialism? If so, then Golden Kamuy may be your jam. The series follows Sugimoto "The Immortal", a veteran of the Russo-Japanese war, who teams up with Asirpa, a young Ainu huntress, on a quest to uncover a large stash of gold hidden by a criminal organization. As their adventure unfolds, they find themselves entangled in a deep web of danger and intrigue, as various other factions also pursue the gold to fulfill their own ambitions.

$12.99
ISBN: 9781421594880
Availability: Not On Our Shelves—Ships in 1-5 Days
Published: VIZ Media LLC - June 20th, 2017
---
In keeping with the current cultural moment, 4 Kids Walk Into a Bank is an adventure story involving pre-teens that is heavily coated in nostalgia and homages to various films and genres, from The Goonies to Reservoir Dogs to Ocean's Eleven. This story of four 11-year-olds who conceive of a bank robbery after getting mixed up with a group of criminals is fast and funny, with excellent writing and artwork. While not exactly what you'd call "feel-good" - there are some surprisingly dark turns in this comic - it's fun, compelling, and guaranteed to keep the reader hooked until the last panel.

ISBN: 9781628751888
Availability: Hard to Find
Published: Black Mask Comics - November 21st, 2017
---
Gauld is at it again with his newest collection of short and witty comic pieces that first appeared in publications like The Guardian, The New Yorker, and The New York Times. His subjects mostly relate to the literary world but he imbues them with dry wit and postmodernism. The targets of his cartoons are often the intellectual posturings of the literary community or constraining conventions in pop culture. It's not, however, mean-spirited. These are cartoons after all, and they are generally gentle-minded ribbing that is sure to illicit a chuckle or two.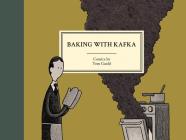 $19.95
ISBN: 9781770462960
Availability: Not On Our Shelves—Ships in 1-5 Days
Published: Drawn and Quarterly - October 3rd, 2017
---
Pages