In keeping with the current cultural moment, 4 Kids Walk Into a Bank is an adventure story involving pre-teens that is heavily coated in nostalgia and homages to various films and genres, from The Goonies to Reservoir Dogs to Ocean's Eleven. This story of four 11-year-olds who conceive of a bank robbery after getting mixed up with a group of criminals is fast and funny, with excellent writing and artwork. While not exactly what you'd call "feel-good" - there are some surprisingly dark turns in this comic - it's fun, compelling, and guaranteed to keep the reader hooked until the last panel.

ISBN: 9781628751888
Availability: Hard to Find
Published: Black Mask Comics - November 21st, 2017
---
Gauld is at it again with his newest collection of short and witty comic pieces that first appeared in publications like The Guardian, The New Yorker, and The New York Times. His subjects mostly relate to the literary world but he imbues them with dry wit and postmodernism. The targets of his cartoons are often the intellectual posturings of the literary community or constraining conventions in pop culture. It's not, however, mean-spirited. These are cartoons after all, and they are generally gentle-minded ribbing that is sure to illicit a chuckle or two.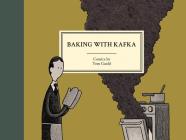 $19.95
ISBN: 9781770462960
Availability: Not On Our Shelves—Ships in 1-5 Days
Published: Drawn and Quarterly - October 3rd, 2017
---
You've probably never seen a book like this before. Zahhak: The Legend of the Serpent King (Fantagraphics, $39.99) is a pop-up book that retells the Iranian myth of the monstrous tyrant Zahhak and his defeat by the noble youth Feraydun. The fantastic art featured within is courtesy of Guggenheim fellow Hamid Rahmanian, drawn from his work adapting the Shahnameh, or Book of Kings. But it's the pop-up engineering, designed by Simon Arizpe, that makes this book dizzying. Not only do some sections literally erupt from the page, but others unfold as booklets to continue the story, complete with smaller pop-up designs within. Myths remain popular fodder for the imagination, from Neil Gaiman's adaptation of Norse mythology this year to Rick Riordan's Percy Jackson Literary Universe. But with nations across the world (including our own) turning to fear and nationalism, our responsibility to move past Norse and Greek mythology and learn the stories of other countries—their similarities, and their differences—is more crucial than it's ever been. Kids will love this book, but adults will learn something from it too.

$39.99
ISBN: 9781606998892
Availability: In Stock—Click for Locations
Published: Fantagraphics - October 2nd, 2018
---
Pages