What do nearly all books about style have in common? Photographs. Pictures, the glossier, the high-color, the better. Surely an image alone does speak volumes, especially when you're talking clothing, coiffing, outward comportment. But that's what makes Women in Clothes so intriguing. Plumbing the depths of the skin-deep, literary heavy-hitters (Heidi Julavits, Sheila Heti, and Leanne Shapton) compiled an expansive questionnaire on clothing, style, and questions of beauty, which they gave to a very diverse group of women. This volume consists of responses to their survey from 639 women, punctuated by a number of visual features and side-conversations which have taken place apropos of the survey, all of it delighting in the analysis of every imaginable facet of fashion. Upon flipping to any random page, I'd hazard that any woman will become immediately engrossed, whatever her own deportment, however complex her feelings on the subject of fashion. The reason, I think, that this book is so compelling, is that there are no photographs of the women surveyed. It's clear, from their words, that among the respondents there are conventionally "well-dressed" women, unkempt and homely women, some really eccentric women, and women in conservative religious dress. But you can't actually see them, and so, with only their own reflections to go on, you can't do what you might normally.

$30.00
ISBN: 9780399166563
Availability: In Stock—Click for Locations
Published: Riverhead Books - September 4th, 2014
---
The power and grace of Vanity Fair is that it celebrates the iconic beauty and intelligence of the moment while priming us for the next cultural wave to look out for. From jazz-juiced America to a land mourning Camelot, from the first moments of hip hop to the social-media era, Vanity Fair has mapped every trend, personality, and moment of significance in the last century. Combining witty, well crafted narrative and the sweeping, gorgeous images the magazine is known for, editor Graydon Carter has given us a time capsule in book form with Vanity Fair 100 Years (Abrams, $65). Fans of the magazine will delight in the detail of the creative process behind the scenes, while more casual observers will marvel at the scope and depth of what Vanity Fair has captured. Here's to another century of visual dynamism and fascinating stories.

$70.00
ISBN: 9781419708633
Availability: Not On Our Shelves—Ships in 1-5 Days
Published: Harry N. Abrams - October 15th, 2013
---
No matter how you feel about "heroin chic" or her personal life, there is little question that Kate Moss has had an unparalleled modeling career. Kate: The Kate Moss Book (Rizzoli, $85) is a comprehensive collection of images that spans two decades and includes never-before-seen photographs from Moss's own archives. The close collaboration of Moss and her editors, three luminaries of the fashion world, Fabien Baron, Jess Hallett, and Jefferson Hack, has resulted in a book that is as beautiful as it is personal. A friend once said to me, "whatever Kate Moss is selling, I'm buying." My recommendation? Follow my friend's advice and buy this amazing book about a truly stunning woman.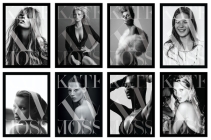 $95.00
ISBN: 9780847837908
Availability: Not On Our Shelves—Ships in 1-5 Days
Published: Rizzoli - November 6th, 2012
---
Pages