As the official White House photographer, Pete Souza spent countless hours during eight years with President Barack Obama. He captured the famous Situation Room meeting in which Obama, surrounded by senior national security aides, monitored the raid that resulted in the death of Osama bin Laden. And he caught the president in many lighter times as well, whether with children, friends, or family members. In all, Souza took nearly two million photos. Obama: An Intimate Portrait (Little, Brown, $50) reproduces 300 of the most representative ones, documenting consequential moments of decision and official action alongside numerous less scripted occasions. The result is an historic photographic record of a landmark presidency and an intimate portrait of a man who occupied America's most powerful office.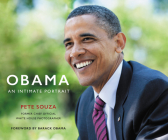 $60.00

ISBN: 9780316512589
Availability: In Stock—Click for Locations
Published: Little, Brown and Company - November 7th, 2017
---
The fifteenth book from acclaimed journalist Marvin Kalb, entitled The Year I Was Peter the Great (Brookings, $24.99), is a memoir focused on one tumultuous year, 1956. Kalb was then a twenty-six-year-old Russian-speaking graduate student assisting the American ambassador as a translator at the U.S embassy in Moscow. As Khrushchev's shocking, year-long campaign of de-Stalinization unfolded, Kalb was there as an eyewitness, meeting Russians of all types, assessing their attitudes and opinions, and watching them size up their American visitor too. This is a fascinating and highly entertaining story about a momentous year in Russian history—one especially relevant in the era of Vladimir Putin and Donald Trump.

$24.99

ISBN: 9780815731610
Availability: Not On Our Shelves—Ships in 1-5 Days
Published: Brookings Institution Press - October 10th, 2017
---
Sir Isaac Newton famously discovered that an object at rest or in motion will remain in that state unless acted upon by an outside force. Before Scott Kelly "slipped the surly bonds of earth" as an astronaut, this Newtonian law played out in a serendipitous fashion in his early life. As he describes in his tremendous Endurance: A Year in Space, a Lifetime of Discovery (Knopf, $29.95), he was on a trajectory to nowhere in particular. Growing up in New Jersey, Kelly was a lackluster student. He drifted and daydreamed all the way to college but hadn't settled on a direction. During his freshman year the outside force arrived in the form of The Right Stuff by Tom Wolfe. Never having been much of a reader, Kelly uncharacteristically devoured this book, finding inspiration in the tale of those early test pilots and astronauts. As a result, Kelly altered the course of his life and after years of struggle he proved he had the right stuff. The highlight of his memoir is his chronicle of his year aboard the International Space Station. Kelly vividly portrays not only the important work being done on the ISS but also daily life for a human floating in orbit. A moving, funny, and uplifting story, this is the closest you will get to experiencing the final frontier without strapping yourself to a rocket.

$29.95

ISBN: 9781524731595
Availability: Not On Our Shelves—Ships in 1-5 Days
Published: Knopf - October 17th, 2017
---
Pages