What would a hospital be without nurses? How could an army go into battle without them? Before Florence Nightingale (Clarion, $18.99) appeared on the scene, such was the case in British military hospitals. Although she gained her greatest fame for shattering this particular glass ceiling during the Crimean War, however, Nightingale's accomplishments extended far beyond the end of the war. She braved severe family opposition to answer what she understood to be a call from God to serve, a vocation she continued to perform in myriad ways for the rest of her long life. Noted biographer Catherine Reef's latest book provides a fascinating glimpse into how one woman's intelligence and grit changed the world forever, as well as a reminder of the essential and courageous work that nurses continue to do today. Ages 12-15.

$18.99
ISBN: 9780544535800
Availability: In Stock—Click for Locations
Published: Clarion Books - November 8th, 2016
---
A novel twist on the classic alphabet book, Alpha Bravo Charlie: The Complete Book of Nautical Codes (Phaidon, $19.95) not only gives young readers a way to practice their letters, but several new ways to communicate them— in code! Sara Gillingham introduces us to the International Code of Signals, which pairs each letter with a boldly patterned flag so that sailors around the world can communicate across long stretches of ocean. Semaphore and Morse code are also included. Bright, clear illustrations make this a great way to hook kids on the alphabet, from Alpha to Zulu. Ages 5-7.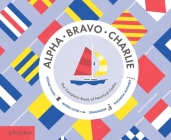 $19.95
ISBN: 9780714871431
Availability: In Stock—Click for Locations
Published: Phaidon Press - May 23rd, 2016
---
Polio prevented her from walking easily. She was teased about her "limpy" leg, so she pretended to be invisible. Although she suffered physically and from poverty, however, there was nothing wrong with her vision. In fact, Dorothea's Eyes (Calkins Creek, $16.95) allowed her to see people with both her eyes and her heart. Barb Rosenstock's brief biography evokes the era and the obstacles facing Dorothea Lange, whose photography documented the devastating impact of the Great Depression. The muted palette of Gérard DuBois's illustrations augments the feel of the time period in which Lange lived and worked. Additional information, resources, and a timeline conclude this fascinating picture-book biography. Ages 6-9.

$17.99
ISBN: 9781629792088
Availability: Not On Our Shelves—Ships in 1-5 Days
Published: Calkins Creek - March 1st, 2016
---
Pages