Jessica Courtney-Tickle's gorgeous visual interpretation of Antonio Vivaldi's Four Seasons begins as a sleeping girl named Isabelle awakens. She collects a tiny apple tree and her puppy, Pickle, and embarks upon an accelerated journey through the seasons that takes only a single day. Beginning with spring and an unexpected shower, Isabelle and Pickle then travel though summer, autumn, and winter in turn. "Press Here" music notes on every page play brief selections from Vivaldi's Four Seasons. The Story Orchestra: Four Seasons in One Day (Frances Lincoln, $22.99) is an ingenious and accessible way to introduce young children to some of the most enduring music ever composed. Ages 5-8.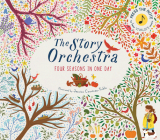 $24.99

ISBN: 9781847808776
Availability: In Stock—Click for Locations
Published: Frances Lincoln Children's Books - October 4th, 2016
---
Take a trip through the history of art with this cohesive and accessible volume of awe-inspiring variety. Beginning with cave paintings and ending with artists still living today, Vincent's Starry Night and Other Stories (Laurence King, $29.95) spans thousands of years in 68 chronologically arranged tales. Michael Bird recounts the life stories of a number of artists and imagines what they might have thought and said about their own creative journeys, while Kate Evans's evocative watercolors include both original compositions and appealing reproductions of the famous works that Bird discusses. Warranting multiple reads from cover to cover, this is a perfect way to expose children to the wonders of human creativity through the ages. Ages 9-14.

$29.99

ISBN: 9781780676159
Availability: Special Order—Subject to Availability
Published: Laurence King Publishing - August 23rd, 2016
---
One day, a young artist named Mira meets a muralist, and alongside their neighbors they transform the "heart of a grey city" into Maybe Something Beautiful (Houghton Mifflin Harcourt, $16.99). It just so happens that Rafael López, the illustrator of this true story about San Diego's Urban Art Trail, is the very same muralist whose bright and colorful work inspired this book. F. Isabel Campoy and Theresa Howell tell the story of a neighborhood transformed by joyous collaboration. López uses vibrant acrylics with collaged patterning to create both the cityscape and characters with plenty of personality. After the magical conclusion, the endnotes describe in more detail the true story that inspired this amazing book. Ages 4-8.

$17.99

ISBN: 9780544357693
Availability: Not On Our Shelves—Ships in 1-5 Days
Published: Clarion Books - April 12th, 2016
---
Pages