George Ancona, whose photography has documented children's activism in Can We Help? and It's Our Garden, turns his camera and his straightforward, documentary-style text on an extraordinary annual performance at the National Dance Institute of New Mexico. More than 500 schoolchildren come together to perform 20 dances based on children's books, each with artful costuming and expressive choreography that leaps from the page. The elaborate preparations in local school gymnasiums are recounted alongside a quieter story of four boys who are pulled from their classes for extra training. From pas de deux to stage fighting, this is what Boys Dancing (Candlewick, $16.99) looks like. Ages 6-9.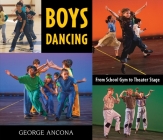 $16.99

ISBN: 9780763682026
Availability: Special Order—Subject to Availability
Published: Candlewick - April 11th, 2017
---
From samba to square dance, Feel the Beat (Dial, $17.99) with fun and imaginative poems about dances from around the world. Each poem is cleverly crafted by Marilyn Singer to match the rhythm of its respective dance, and is accompanied by Kristi Valiant's illustrations that are full to bursting with the colorful, kinetic energy. The book includes back matter describing the dances, as well as a CD of Singer reading each poem set to the appropriate music. It's a collection that really swings! Ages 7-10.

$17.99

ISBN: 9780803740211
Availability: In Stock—Click for Locations
Published: Dial Books - March 7th, 2017
---
Poets celebrate their own favorite masters of the genre in Out of Wonder (Candlewick, $16.99). Beloved children's author Kwame Alexander and collaborators Chris Colderley and Marjory Wentworth have created new verses that reflect the styles and ideas of some of the world's greatest poets, including Naomi Shihab Nye, Pablo Neruda, e.e. cummings, Rumi, and Maya Angelou. Equally breathtaking are the wealth of illustrations by the dazzlingly talented Ekua Holmes. Her gorgeous, dark-hued collages reflect her own poetic interpretation of the words and beckon you to turn the page and discover even more wonder. Ages 9-12.

$16.99

ISBN: 9780763680947
Availability: In Stock—Click for Locations
Published: Candlewick - March 14th, 2017
---
Pages