To some, art may seem unnecessary. For James Castle, however, it was essential. Born in 1899 and never able to hear, speak, or read, he lived in a world of Silent Days, Silent Dreams (Arthur A. Levine, $21.99) as he endured abuse and neglect. He had no way to communicate anything of his experiences… except for art. Even when his teachers confiscated his drawing materials, Castle would use burnt matchsticks and other cast-off items to make images however and whenever he could. Allen Say employs some of Castle's own artistic methods in his nuanced story of Castle's life, told through the eyes of Castle's nephew. The recognition Castle received later in life is a poignant conclusion to a story that will leave an indelible mark on those who read it. Ages 9-12.

$21.99

ISBN: 9780545927611
Availability: In Stock—Click for Locations
Published: Arthur A. Levine Books - October 31st, 2017
---
The amazing duo who created The Man with the Violin returns with a new tribute to the celebrated violinist and conductor Joshua Bell. In a dazzling narrative, Kathy Stinson traces the young musician's earliest years and focuses on his amazing talent and first competition. Dusan Petricic's illustrations capture The Dance of the Violin (Annick, $18.95) and bring to life the exuberance and flourish of Bell's playing as well as his persistence after making mistakes. Back matter provides answers for young readers who wish to discover more about Joshua Bell. Ages 4-8.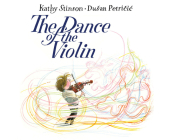 $18.95

ISBN: 9781554519002
Availability: Special Order—Subject to Availability
Published: Annick Press - March 14th, 2017
---
Originally included in a letter to his sister, written to make her smile, poet John Keats's A Song About Myself (Candlewick, $17.99) does not disappoint. A whimsical rhyme brought to life by Chris Raschka's detailed and delightful watercolor illustrations takes you on a romp through the countryside of Scotland with the young Keats. Arriving at the end of the poem, you feel like you've just finished a long walk with a close friend. In four short chapters, Keats has crafted a fast-paced story while providing opportunities for the reader to pause and reflect along the way. It's a journey you'll want to make all over again. Ages 6-9.

$17.99

ISBN: 9780763650902
Availability: Special Order—Subject to Availability
Published: Candlewick - March 14th, 2017
---
Pages