A Bibliography Prepared by Carla Cohen

Haggadot are used to conduct a Seder, an ancient ritual that incorporates both a religious celebration and a joyous meal. The religious celebration commemorates the freeing from bondage of the Israelite slaves in Egypt. Thus, it has great resonance for all peoples, and many other religious groups now conduct Seders.
Politics & Prose has selected Haggadot that represent major liberal traditions in Judaism. All of them are gender-neutral ("ancestors" instead of "forefathers", "four children" instead of "four sons"). We encourage you to experiment with several Haggadot, especially if you are just starting to hold Seders. Then you will be able to make an informed choice when investing in eight, ten or twelve of the same Haggadah.
If you are purchasing 5 or more of the same Haggadah, you will receive a 10% discount.
If you purchase 10 or more, you receive a 20% discount.
Four questions to ask when choosing among Haggadot:
Is your Seder to be conducted in both Hebrew and English and does the
balance between the two languages reflect the abilities of your guests?

How much commentary is included and does it reflect the issues that you wish to discuss?

Is the Haggadah attractive, and will you enjoy it over the years?

How many do you have to buy and do you expect to be using them for many years to come?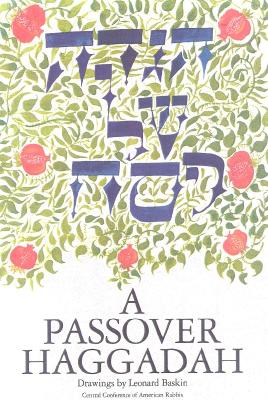 A PASSOVER HAGGADAH, prepared by the Central Conference of American Rabbis (Reform Movement), edited by Herbert Bronstein, illustrations by Leonard Baskin ($16.95). This Haggadah is a favorite because of its lovely illustrations. The text contains introductory material and contemporary language that will contribute to any Seder. The interpretation of the ten plagues is particularly compelling. In his introduction, Rabbi Bronstein makes a point all leaders should remember: "It is not our intention that this Haggadah should be read in its entirety… Our aim is to provide a wide latitude and scope for choice." Add to Cart
THE PASSOVER HAGGADAH: THE FEAST OF FREEDOM, edited by Rachel Rabinowicz, prepared by the Rabbinical Assembly of the Conservative Movement ($18.95) is a feast of fine material and commentary. It contains as much useful historical information as any Haggadah and neatly solves the problem of how to keep the text a reasonable length by using copious marginal notes. However, the service is actually in Hebrew with only some English. If you wish to conduct a service primarily in English, you will need to choose another Haggadah.
Add to Cart
THE OPEN DOOR, edited by Sue Levi Elwell, ($9.95) was published by CCAR in 2002. In keeping with the Reform movement's increased use of Hebrew and greater incorporation of ritual, the Haggadah follows the order of the Seder with Hebrew and English. This Haggadah strikes a nice balance between tradition and modern customs. It is also terse if you want to move the Seder along at a brisk pace.
Add to Cart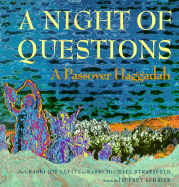 A NIGHT OF QUESTIONS, edited by Joy Levitt and Michael Strassfeld ($24). The Reconstructionist Movement in 1999 published this handsome Haggadah, with three objectives: 1) to preserve the ancient language, 2) to wrestle with the questions posed by the story of the Exodus, and 3) inspire us to seek freedom for all peoples. Of particular interest is a discussion of the four children – whom they see as aware, as well as wise or skeptical as well as wicked. This new Haggadah speaks to the modern, more secular Jew and to observers of tradition. Add to Cart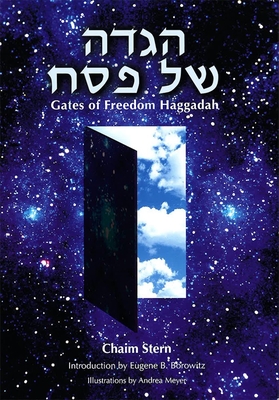 GATES OF FREEDOM HAGGADAH by Chaim Stern ($10.95) is an excellent Haggadah that presents traditional text with modern commentary in a manageable service. The text is particularly good on a list of modern plagues and reworking of Dayenu. A large number of songs with music are included, in Hebrew and transliterated.
Add to Cart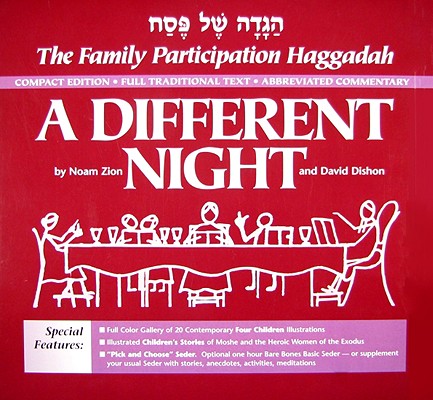 A DIFFERENT NIGHT: THE FAMILY PARTICIPATION HAGGADAH by Noam Zion and David Dishon ($10.95), published by the Hartman Institute in Jerusalem is an addition to the Passover literature. There is a rich discussion of "Should We Feel Joy at the Downfall of Our Enemies?" This Haggadah would be difficult to tackle if one were not experienced, but for those who wish to introduce new readings, A Different Night will add tremendously.
Add to Cart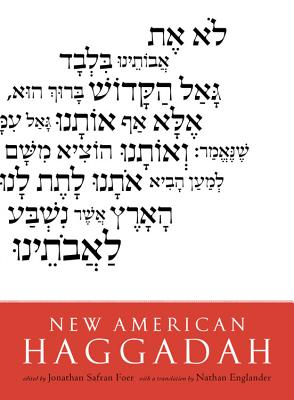 Jonathan Safran Foer has orchestrated a new way of experiencing and understanding one of our oldest and sacred stories, with a new translation of the traditional text by Nathan Englander and commentary by major Jewish writers and thinkers Jeffrey Goldberg, Lemony Snicket, Rebecca Newberger Goldstein, and Nathaniel Deutsch. Ravishingly designed and illustrated by the acclaimed Israeli artist and calligrapher Oded Ezer, NEW AMERICAN HAGGADAH ($16) is an utterly unique and absorbing prayer book, the first of its kind, that brings together some of the preeminent voices of our time. Add to Cart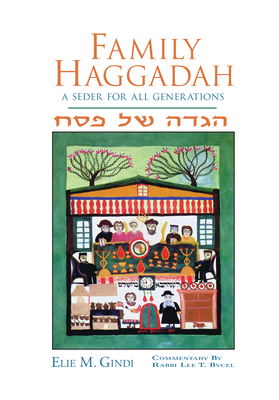 FAMILY HAGGADAH: A Seder for All Generations by Elie Gindi ($9.95) is a simple family Haggadah with a pared-down service – essentials only, but beautifully illustrated in a way that will engage children. There are no additional readings and little commentary, but the pictures will spark comments. This has no children's songs, and the commentary is geared towards teens and adults. The service includes a full Birkat Hamazon (grace after meals).
Add to Cart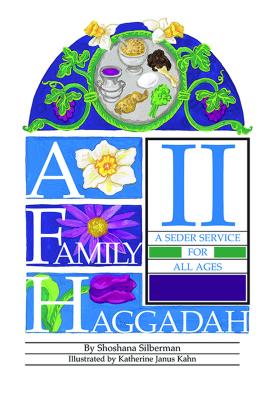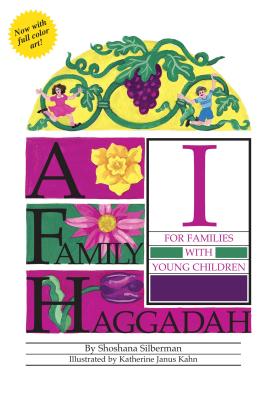 A FAMILY HAGGADAH I by Shoshana Silberman ($4.99) is a quick-reading Haggadah to use with young children. It has all of the elements necessary for the Seder, the symbols and the story (Maggid) This includes words to several favorite children's songs and commentary and questions geared to young children. The Birkat Hamazon (grace after meals) is abbreviated. Add to Cart
A FAMILY HAGGADAH II ($4.99) has more commentary and is appropriate for school-age children. Both Haggadot have many suggestions for conducting services with families. Add to Cart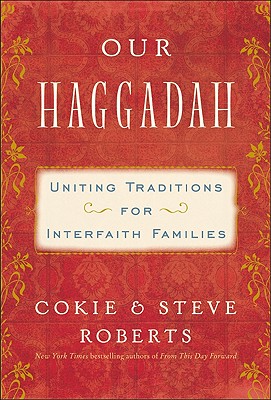 Cokie & Steve Roberts' OUR HAGGADAH ($19.99) has evolved over the course of their forty years together, growing and changing along with the guest list at their Passover Seders. Emphasizing values as much as religious beliefs, it's a practical guide for interfaith couples.
Add to Cart
If you are including children in your seder, you may also want to browse the selection below and in the Children's Department where there are some Haggadot for children and stories about Passover.