P&P Live! Tomos Roberts-The Great Realization—in conversation with Eva Chen
Thursday, September 17, 2020 - 5:00pm
In the midst of the COVID-19 pandemic, Tomos Roberts wrote a hopeful poem for his younger siblings. Since he uploaded it to YouTube, his message has reached over six million viewers. Join Roberts and author/influencer Eva Chen as they discuss the piece—now in a striking picture book illustrated by award-nominated artist Nomoco—and its celebration of creativity, simple acts of kindness, and the other things that have given us hope in this time of global crisis.
Tomos Roberts—also known as Tomfoolery—is a spoken word poet, performer, and filmmaker. He was born in New Zealand and raised in London, where he currently resides.
Eva Chen grew up in New York City. After interning and working at several fashion magazines, Chen earned her degree in journalism from Columbia University. In 2013, she was hired as the editor in chief of Lucky. She has also contributed to Vogue, Vogue China, The New York Times, and The Wall Street Journal. She is the author of New York Times bestseller Juno Valentine and the Magical Shoes and the forthcoming Roxy: The Last Unisaurus Rex. Currently the VP of Fashion Partnerships at Instagram, Eva lives in New York City with her husband and two children.
Ages 4-8
U.S. viewers: use the button below to purchase The Great Realization.
U.K. Viewers: purchase The Great Realisation from Waterstones Wimbleton here: https://www.waterstones.com/book/the-great-realisation/tomos-tomfoolery-roberts/nomoco/9780755501502
Click here to join the Live! event.
Child & Teen
Children
Offsite

$18.99
ISBN: 9780063066366
Availability: In Stock—Click for Locations
Published: HarperCollins - September 1st, 2020
---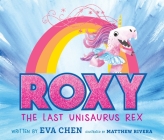 $18.99
ISBN: 9781250619921
Availability: In Stock—Click for Locations
Published: Feiwel & Friends - October 6th, 2020
---
Not Signed or Personalized