Wednesday, June 2, 2021 - 6:00pm
When Sharice Davids was young, she never thought she'd be in Congress. And she never thought she'd be one of two Native American women to break barriers and become the first to serve in Congress. During her campaign, she heard from a lot of doubters. People who said she couldn't win because of how she looked, who she loved, and where she came from. But here's the thing: Everyone has obstacles. Everyone's path looks different. And everyone can learn from the remarkable story of Sharice Davids' path to Congress. Beautifully illustrated by Joshua Mangeshig Pawis-Steckley, an Ojibwe Woodland artist, this powerful autobiographical picture book teaches readers to use their big voice and that everyone deserves to be seen—and heard! Co-written with Kansas City-based author Nancy K. Mays, Sharice's Big Voice is an empowering and beautifully illustrated celebration of one woman's journey.
If you would like to ask Sharice Davids or Joshua Pawis-Steckley a question, please enter it during registration. There will not be an opportunity to enter questions during the live event.
Sharice Davids made history in 2018 when she became one of the first two Native American women elected to Congress -- and the first openly LGBTQ person to represent Kansas in Washington. A former mixed martial artist and first-generation college student, Sharice worked her way through Johnson County Community College in the district she now represents, before eventually earning a law degree from Cornell Law School. She went on to work in economic and community development on tribal reservations, including Pine Ridge. Sharice was later selected to the prestigious White House Fellowship program under President Barack Obama. Sharice was inspired to public service by her single mom, who served as an Army drill sergeant. She is a resident of Roeland Park, Kansas.
Joshua Mangeshig Pawis-Steckley is an Ojibwe Woodland artist from Barrie, Ontario, and a member of Wasauksing, First Nation. He is currently an Artist-in-Residence at Skwachay's Lodge in Vancouver, British Columbia, practicing his acrylic painting and illustration techniques. His fine art focuses on promoting and reclaiming Ojibwe stories and teachings, in a modern interpretation of the Woodland tradition. Sharice's Big Voice is Joshua's second picture book. Visit him online at www.joshuamangeshig.com and on Instagram at @mangeshig.
Ages 4-8
Click here to access the Live! event.
Child & Teen
Children
Offsite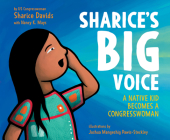 $17.99

ISBN: 9780062979667
Availability: In Stock—Click for Locations
Published: HarperCollins - June 1st, 2021
---
Not Signed or Personalized