Thursday, November 11, 2021 - 6:00pm
Click here to register for this virtual event.
The daladala rumbles down the street in Zanzibar, Tanzania, as Musa and Dada travel down to the beach. They have already picked up a goatherd, a bicyclist, vendors, and farmers while Musa wonders who else will be able to fit. Two stops become ten, and they must make space for all the coconuts, umbrellas, chicken, and fish. Room For Everyone shows that there is always room for one more!
Naaz Khan is a writer and educator. She draws inspiration from her experiences living in Saudi Arabia, Egypt, Kenya, and India, where she was born. Room For Everyone is her debut picture book.
Ruth Forman is the author of Curls, Glow, and the upcoming Bloom. She is also the author of award-winning poetry collections for adults We Are the Young Magicians and Renaissance. She is the recipient of the Barnard New Women Poets Prize and the PEN Oakland/Josephine Miles Literary Award, among others.
Ages 3-8
Signed books available while supplies last.
Child & Teen
Children
Offsite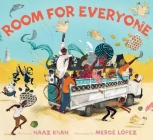 $17.99

ISBN: 9781534431393
Availability: In Stock—Click for Locations
Published: Atheneum/Caitlyn Dlouhy Books - November 9th, 2021
---

$8.99

ISBN: 9781534446335
Availability: In Stock—Click for Locations
Published: Little Simon - May 4th, 2021
---

$8.99

ISBN: 9781534446311
Availability: In Stock—Click for Locations
Published: Little Simon - December 22nd, 2020
---
Not Signed or Personalized