P&P Live! Hannah Salyer - Packs: Strength in Numbers
Tuesday, May 5, 2020 - 10:00am
Whether you're in a cloud of bats, a flamboyance of flamingos, a mob of mongooses, or a crowd of humans, you know we thrive together. This richly illustrated picture book introduces collective nouns and animal behaviors with flair and warmth. Vivid prose celebrates unity and biodiversity, encouraging readers to learn more about animals threatened by climate change, poaching, and habitat loss. Ages 4-8. 
Click here to join the event.
Politics and Prose Live!
5015 Connecticut Ave NW
Child & Teen
Children
Offsite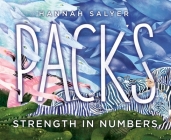 $17.99
ISBN: 9781328577887
Availability: In Stock—Click for Locations
Published: HMH Books for Young Readers - January 28th, 2020
---
Not Signed or Personalized