P&P Live! Danielle Joseph — I Want to Ride the Tap Tap
Tuesday, February 23, 2021 - 10:00am
During daily walks to the bus stop, Claude eagerly asks to join his father and their neighbors on the colorful island taxi, known as the tap tap. Manman gently reminds him that it is a school day and riding on the tap tap has to wait. A surprise trip to the beach on Sunday finally allows Claude to join the passengers he sees during the week and learn how to fish, paint and play the drums from them. Vibrant scenes of island life lighten up each page along with Haitian Creole vocabulary to introduce children to greetings and days of the week.
Danielle Joseph is the author of the young adult novels Shrinking Violet, Indigo Blues, and Pure Red. When she's not writing, you can find Danielle relaxing with her family, traveling, or chasing after her dog, Ringo. Danielle was born in Cape Town, South Africa, and currently lives in Maryland with her husband, who is from Haiti, and their three kids.
Ages 4-8
Click here to register for the Live! event.
Child & Teen
Children
Offsite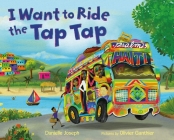 $18.99
ISBN: 9780374312145
Availability: In Stock—Click for Locations
Published: Farrar, Straus and Giroux (BYR) - December 29th, 2020
---
Not Signed or Personalized