P&P Live! Candice Iloh and Amyra León-Every Body Looking and Concrete Kids—with Deborah Taylor
Thursday, February 18, 2021 - 7:00pm
The power of poetry to amplify Black voices is a thread that brings authors Candice Iloh and Amyra León together for a compelling discussion about expression. Iloh's Every Body Looking and León's Concrete Kids (Pocket Change Collective) discuss the power of resilience and the absolute importance of creating space for marginalized groups. Amyra and Candice will be joined in conversation with P&P contributor, Deborah D. Taylor for a discussion about the arts, activism, and lived experiences.
Candice Iloh is a first generation Nigerian-American writer, teaching artist, and youth educator. She has performed her work around the country, most notably at Nuyorican Poets Café in New York City, the Women in Poetry & Hip Hop celebration at the Reginald F. Lewis Museum in Baltimore (where she performed as Nikki Giovanni), and as part of the Africa In Motion performing arts series at the National Museum of African Art in Washington, DC. She is a graduate of Howard University and holds an MFA in writing from Lesley University. A National Book Award finalist and a Michael L. Printz Award Honoree, Every Body Looking is her first novel.
Amyra León is an author, musician, playwright, and activist. Her work focuses on Black liberation, politics, and communal healing whilst transcending genre and medium. She believes that the art of listening and honest conversation are the primary tools for lasting change. Her aim is to empower communities to believe in the significance of their individual stories.
Deborah D. Taylor recently retired from the Enoch Pratt Free Library in Baltimore, MD. She has chaired and served on many American Library Association committees and on the National Book Awards Jury for Young People's Literature. She was named the 2015 recipient of the Coretta Scott King/Virginia Hamilton Award for Lifetime Achievement. She is a reviewer and an adjunct professor teaching young adult literature at the University of Maryland, College of Information Studies.
Ages 12 and up
Click here to join the Live! event.

$17.99
ISBN: 9780525556206
Availability: In Stock—Click for Locations
Published: Dutton Books for Young Readers - September 22nd, 2020
---

$8.99
ISBN: 9780593095195
Availability: In Stock—Click for Locations
Published: Penguin Workshop - October 13th, 2020
---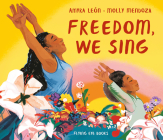 $16.95
ISBN: 9781912497324
Availability: In Stock—Click for Locations
Published: Flying Eye Books - July 7th, 2020
---
Not Signed or Personalized