Tuesday, March 28, 2023 - 6:00pm
Click here to register for the event!
Join P&P Live for a special event with Ahmet Zappa and Dan Santat to discuss their newest book, Because I'm Your Mom.
What's the best kind of mom? The kind of mom who lets you have nachos for breakfast, goes skateboarding with you at the beach, and does the dinosaur dance with you under the full moon. But best of all, she kisses away your owies, wishes upon a shooting star for you, and loves you always…for exactly who you are. Celebrate the special bond between fun-loving moms and their lucky kids in Because I'm Your Mom, a tribute to moms everywhere.
Virtual
Child & Teen
Children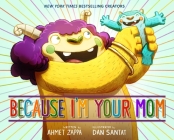 $17.99

ISBN: 9780316338219
Availability: Coming Soon—Pre-Order Now
Published: Little, Brown Books for Young Readers - March 28th, 2023
---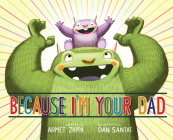 $17.99

ISBN: 9781423147749
Availability: Backordered
Published: Little, Brown Books for Young Readers - April 16th, 2013
---