Tuesday, April 10, 2018 - 3:00pm
Pete Souza was the Chief Official White House Photographer for President Obama during both of his two terms in office. He took nearly two million photos during Obama's groundbreaking tenure, and the three hundred reproduced in Obama: An Intimate Portrait document key historic events, give us behind-the-scenes glimpses of a modern presidency, and convey the private moments of one of the world's most public figures. Souza, who has photographed Barack Obama since his first day in the U.S. Senate , has created a comprehensive picture of an era through images so detailed and intimate they make us all feel like they know Obama personally.
This event is free and open to the public.
Presales have ended, but signed books will be available on the floor after the event.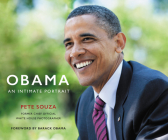 $60.00

ISBN: 9780316512589
Availability: In Stock—Click for Locations
Published: Little, Brown and Company - November 7th, 2017
---
Not Signed or Personalized