Monday, October 5, 2015 -

7:00pm

to

9:00pm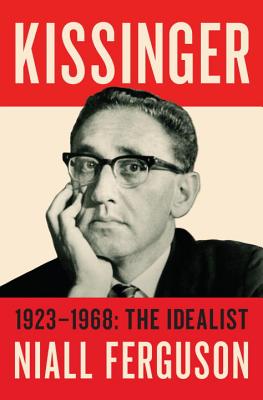 In Kissinger: 1923-1968: The Idealist, the first of his projected two-volumes on Henry Kissinger, Ferguson delves into the statesman's early life and thinking, providing the little-known background that formed this influential figure's world view. Fleeing Hitler, Kissinger spent his first years in New York doing factory work before the draft sent him into action at the Battle of the Bulge. Post-war studies at Harvard immersed him in the ideas of Kant and Metternich, setting him on course to becoming the strategist we know. Ferguson traces his subject's intellectual coming-of-age with a depth and scope that recalls his magisterial work on Siegmund Warburg, The High Financier, and his comprehensive investigation of The House of Rothschild.
This event is part of The Newsmakers Series, a partnership of Politics & Prose and George Washington University, that moves beyond the headlines to spark in-depth conversations about contemporary issues.
1 Ticket: $15
1 Book and 1 Ticket: $40; $38 for members
1 Book and 2 Tickets: $45; $43 for members
Click here to purchase.
All books and tickets will be available at will call at 6 p.m. the evening of the event.
Politics & Prose will not have books or tickets available for pick up prior to the evening of the event.
Signed Book Only
add to cart
Indicate in the 'Order Comments' box that you want a signed copy and any other preferences
GW Jack Morton Auditorium
805 21st Street NW
Not Signed or Personalized