Saturday, July 30, 2016 -

10:30pm

to

11:45pm
Pre-orders are now closed. Books will be available for purchase at
P&P Connecticut Avenue from 12:01 am, July 31 while supplies last.
Starting at 10 am on Sunday, July 31, books will also
be available at P&P Busboys and Poets locations.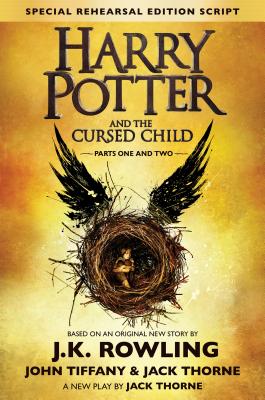 Saturday, July 30, 10:30 p.m. – 12:30 a.m.
Stay up past your bedtime and celebrate the release of Harry Potter and the Cursed Child with P&P! Pre-orders for Harry Potter and the Cursed Child will be available online only through noon on July 29 while supplies last. When you pre-order a copy, you will automatically be entered into a raffle for a panoply of Potter-themed prizes!
Naturally, the book release is the main event, and we've got extra fun and festivities planned for witches and wizards of all ages. Here's how the night will unfold in our Connecticut Avenue store...
Feast and Frolic in The Den
Throughout the evening

Find our coffeehouse and wine bar, The Den, transformed into a Hogwarts House common room! Hang out in a spot decorated with your House colors, grab a butterbeer, and mingle with your fellow students.

Wand Making and Crafts
Throughout the evening (Downstairs in the Sale Room)

We'll have a table set up with supplies for Potter-themed wand decorating, coloring pages and activity sheets for crafty students of all ages.

Harry Potter NERDs trivia
10:45 p.m to 11:30 p.m. (Back of the bookstore)

Put your wizarding knowledge to the test in our special Potter-themed NERDs trivia. Team sign-up begins at 10:45 p.m., with the quiz beginning at 11 p.m. sharp. Ten points to Gryffindor!

Harry Potter Read-a-loud
11 p.m. to 11:30 p.m. (Downstairs in The Den)

Come hear your favorite Harry Potter passages read by one of P&P's staff wizards, or volunteer to read aloud to the room yourself.

Costume Competition winners announced!
11:45 p.m. (Back of the Bookstore)

Come dressed up as your favorite character, or invent your own! Best costume prizes awarded in two age categories: 12 and under and 13 and older

... And …

At Midnight Harry Potter and the Cursed Child goes on sale!

The wait is finally over! Pick up your copy and dive back into the magic, in the first continuation of the Harry Potter saga for nine years.
Fiction & Poetry
Child & Teen
Not Signed or Personalized