Judy Blume - In the Unlikely Event — at Sixth & I
Thursday, June 4, 2015 -

7:00pm

to

7:30pm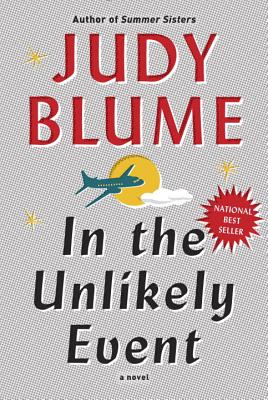 In her highly-anticipated new novel, Judy Blume, the number one New York Times bestselling author of Summer Sisters and of young adult classics such as Are You There God? It's Me, Margaret, creates a richly textured and moving story of three generations of families, friends and strangers, whose lives are profoundly changed by unexpected events.
In 1987, Miri Ammerman returns to her hometown of Elizabeth, New Jersey, to attend a commemoration of the worst year of her life. Thirty-five years earlier, when Miri was fifteen, and in love for the first time, a succession of airplanes fell from the sky, leaving a community reeling. Against this backdrop of actual events that Blume experienced in the early 1950s, when airline travel was new and exciting and everyone dreamed of going somewhere, she paints a vivid portrait of a particular time and place—Nat King Cole singing "Unforgettable," Elizabeth Taylor haircuts, young (and not-so-young) love, explosive friendships, A-bomb hysteria, rumors of Communist threat. And a young journalist who makes his name reporting tragedy. Through it all, one generation reminds another that life goes on.
In the Unlikely Event is vintage Judy Blume, with all the hallmarks of Judy Blume's unparalleled storytelling, and full of memorable characters who cope with loss, remember the good times, and finally, wonder at the joy that keeps them going. , the protagonist looks back to a series of mysterious plane crashes from her childhood. Imagining the lives of three families from the early 1950s, Blume explores the effect of momentous public events on private individuals, and looks closely and affectingly at relationships and loss, ambition and strife, love and parenthood.
Blume will be in conversation with Linda Holmes, host of NPR's entertainment and pop-culture blog, Monkey See.
The author will only be signing copies of her new book. No older titles or memorabilia will be signed at this event.
A limited number of tickets will be available at the door.
All books and tickets will be available at will call at 6 p.m. the evening of the event.
Politics & Prose will not have books or tickets available for pick up prior to the evening of the event.
Not Signed or Personalized