Thursday, November 3, 2022 - 8:00pm
Click here to register for this virtual event.
About the Event
Authors Barbara Dilorenzo, De Nichols, and John Della Volpe join with activist Abbey Clements of Teachers Unify to End Gun Violence to discuss their reactions to gun violence across America and their hopes for the future of safety from gun violence in America. Authors will discuss artivism, using art as a method for channeling fear into creativity, and other ways Generation Z, their parents, and teachers can find an outlet and take action against gun violence. Moderated by Politics and Prose Community Outreach Coordinator Heidi Ashton Yoon
About the Panelists:
John Della Volpe is the Director of Polling at the Harvard Kennedy School Institute of Politics, where he has led the institute's polling initiatives on understanding American youth since 2000. The Washington Post referred to John as one of the world's leading authorities on global sentiment, opinion and influence especially among Millennials and in the age of digital and social media.
In Fight: How Gen Z Is Channeling Their Passion and Fear to Save America, Della Volpe draws on his vast experience to show the largest forces shaping Gen Z's lives, the issues they care most about, and how they are—despite older Americans' efforts to label Gen Z as overly sensitive, lazy, and entitled—rising to the unprecedented challenges of their time to take control of their country and our future.
De Nichols is currently a Loeb Fellow in residence at Harvard University's Graduate School of Design. As an arts-based organizer, social impact designer, serial entrepreneur, and keynote lecturer, she's mobilized change-makers nationwide to develop creative approaches to the social, civic, and racial justice issues that matter most within communities.
Art has accompanied social justice movements throughout time, bringing attention to important causes and imagining a vision for change. In The Art of Protest, Nichols' brightly colored, art-filled book, she outlines the history of art in social justice movements worldwide, defines key artistic terms, and provides instruction and inspiration for making your own protest art. Nichols also shares her own experiences creating art for the Black Lives Matter movement and considers the future of the arts and social change.
Barbara DiLorenzo's first picture book was Renato and the Lion, which received a starred review from Booklist and was named a Bank Street Best Book of the Year, a Junior Library Guild selection, and a CBC Notable Social Studies Trade Book for Young People. She is also the author and illustrator of Quincy: The Chameleon Who Couldn't Blend In, a finalist for the Crystal Kite Award.
When Granddad picks Ava up from school one Thursday afternoon, she's quiet. She doesn't want to talk about the lockdown drill that has stirred up her worries. Granddad doesn't talk much either; but leads her to the park where they picnic and paint the outdoors together. One Thursday Afternoon sheds light on how an unpredictable world can make a child feel, reminding us that big fears can become smaller when we take time together to look, listen, and create.
Abbey Clements is a co-founder of Teachers Unify to End Gun Violence and President of the Board of Directors. She is a survivor teacher of the Sandy Hook School tragedy in 2012, and elementary educator for 30 years. Clements has been a gun violence prevention activist, wearing many hats over the last near-decade, including as a Moms Demand Action volunteer leader (Deputy CT Chapter Leader, Survivor Fellow, National Training Team Lead, to name a few) and as a strategic consultant on gun violence issues for the AFT. She has been featured in various publications and documentaries, including Newtown, If I Don't Make It, I Love You, Bullets Into Bells, Marie Claire, AFT Voices, USA Today, among others.
About Teachers Unify to End Gun Violence
Teachers Unify to End Gun Violence is a grassroots movement of educators across America whose mission is to elevate stories of gun violence in schools and communities in order to influence policies and Americans at large to make us safer. Click here to learn more about their mission.
About IndiesUNITE!
Seven independent bookstores across the country have joined forces to become IndiesUNITE!, a collaborative project offering a series of hard-hitting virtual events that challenge the status quo, question our current standards, and leave no curiosity left unexplored. Launched in 2020, IndiesUNITE! hosts several virtual events throughout the year, engaging educators, parents, and readers of all ages. Attendees and participants are encouraged to share their experience on social media using the hashtag #IndiesUnite2022.
Virtual
Child & Teen
Children
Teens

$28.99

ISBN: 9781250260468
Availability: In Stock—Click for Locations
Published: St. Martin's Press - January 18th, 2022
---

$19.99

ISBN: 9781536223255
Availability: Not On Our Shelves—Ships in 1-5 Days
Published: Big Picture Press - November 11th, 2021
---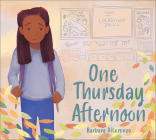 $18.00

ISBN: 9781947888371
Availability: In Stock—Click for Locations
Published: Flyaway Books - September 6th, 2022
---
Not Signed or Personalized