Amusing Apocalypses: Gaiman and Pratchett (19137)
Two Thursdays: November 14, 21 from 6-8 p.m.
Price:
$60.00 (10% off for members)
The authors Terry Pratchett and Neil Gaiman are household names after the release of the Amazon Prime show Good Omens, but the two have long been recognized as great fantasy writers. In their different ways, each adds whimsy to our everyday world and wields a sense of humor unique to the fantasy genre. This seminar-style, discussion-based class will focus on their humorous takes on the apocalypse and explore how these satirical end-of-the-world tales allow us to reflect on and laugh at our own world. For the first class, we'll read their co-authored Good Omens. For the second week, we'll read Terry Pratchett's Discworld novel Thief of Time. In both novels unlikely heroes work against the forces of the universe to avert the end of days.
Two Thursdays:
November 14, 21 from 6-8 p.m.
Books: Good Omens, Terry Pratchett & Neil Gaiman Thief of Time, Terry Pratchett
Leigha McReynolds received her PhD in English Literature from The George Washington University. Her dissertation was on science and the supernatural in 19th Century British Literature, but her current research focus is contemporary science fiction. She has published and presented on science fiction texts ranging from Ursula K. Le Guin's short stories to Frank Herbert's Dune . Currently, Leigha is a professor in the writing program at The George Washington University where she uses science fiction to engage students across disciplines.
REFUND POLICY: Please note that we can issue class refunds up until seven (7) days before the first class session.

$9.99
ISBN: 9780062307392
Availability: In Stock—Click for Locations
Published: Harper - July 29th, 2014
---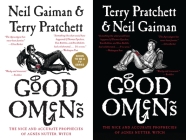 $17.99
ISBN: 9780060853976
Availability: In Stock—Click for Locations
Published: William Morrow Paperbacks - August 7th, 2007
---