30 Days Whole Food: The Essential 30 Day Diet Meal Plan to Lose Body Fat & Achieve your Weight Loss Through Intermittent Fasting, Whole Fo (Paperback)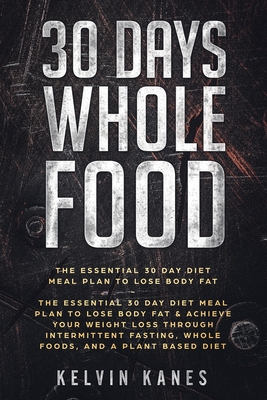 $17.50

Not On Our Shelves—Ships in 1-5 Days
(This book cannot be returned.)
Description
---
Discover The Transformative Powers That 30 Days of Whole Foods Can Do For Your Body Today
Are you looking for a way to rid your body of excess fat cells that are clinging onto your vital organs? Are you looking for increased energy and enhanced bodily functions? Are you ready to take your body to a whole new level? What if i told you that within 30 days you can see results so incredible that you never want to stop?
In "30 Days Whole Foods" You Will Learn:
Why Whole Food Is An Essential Nutritional Group For You
How Whole Foods Can Improve Your Intestines, Heart, and Arteries
What The Whole Food Nutritional Regimen Is
The Key Components of Whole Grains
What Are The Common Foods That Make Up The Whole Food Diet
Whole Food Options To Gain Nutrition While Trimming Fat Simultaneously
The Obesity Epidemic and The Problem With The American Diet and Excess Calories
How Fasting and Whole Foods Go Hand In Hand
The Biological and Evolutionary Effects of Fasting
The Types of Fasting: Short Term, Intermittent, and Long-Term, Extended Fasting
Myths and Misconceptions About Fasting
The Proper Eating Window
How To Keep Insulin Levels Low & The Effects of Insulin Resistance
The Hidden Power of Incorporating The Right Fasting Method That Suits You
Fasting For Type-2 Diabetes (If You Suffer From This Condition)
The Positive Effects of Fasting
Factors That Improve The Quality of Fasting Good Nutrition, Ketone, Well-Balanced Diet
Having An Accountability Partner
How To Ensure You Get Proper Nutrition For Maximum Results
And so much more...
Let's Get You To Great Health ASAP
Pick up your copy of the book right now by clicking the BUY NOW button at the top of this page