La tregua / Truce (Paperback)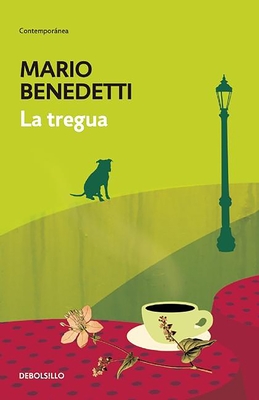 $11.95
In Stock—Click for Locations
Description
---
Una novela sobre la soledad y la incomunicación, el amor y la sexualidad, la muerte y los problemas políticos.

Martín Santomé, viudo con tres hijos, en las vísperas de su jubilación comienza a registrar en un diario su vida gris y sin relieve. La vida cotidiana de la rutina en la oficina y la de un hogar desunido y crispado se verán alteradas cuando irrumpe en su rutina la joven Laura Avellaneda, su nueva empleada. Y este hombre, casi sin proponérselo, decide abrir en su vida un paréntesis luminoso.

La tregua se ha traducido a decenas de idiomas y ha sido adaptad al cine, la televisión, el teatro y la radio, pero que sobre todo ha gozado de la excepcional acogida de los lectores de todo el mundo.

ENGLISH DESCRIPTION Just before his retirement, Martín Santomé, a widower with three children, starts to document his dull grey life in a diary. The everyday routine at the office and in a tense, conflictfilled home starts to change with the arrival of young Laura Avellana, his new employee. And this man, almost without meaning to, decides to begin a luminous new chapter in his life. The Truce has been translated to dozens of languages and has been adapted for movies, television, and radio, but above all has enjoyed exceptional acclaim by readers around the world.
About the Author
---
Mario Benedetti (Uruguay, Paso de los Toros, 14 de septiembre de 1920 - Montevideo, 17 de mayo de 2009) se educó en un colegio alemán y se ganó la vida como taquígrafo, vendedor, cajero, contable, funcionario público y periodista. Fue autor de novelas, relatos, poesía, teatro y crítica literaria. Su obra se compone de un corpus de más de ochenta libros, y su talento ha sido reconocido en todo el mundo.

En 1953 apareció Quién de nosotros, su primera novela, pero fue el libro de cuentos Montevideanos (1959) el que supuso su consagración como narrador. Con su siguiente novela, La tregua (1960), Benedetti adquirió proyección internacional: la obra tuvo más de ciento cincuenta ediciones, fue traducida a diecinueve idiomas y llevada al cine, el teatro, la radio y la televisión. Por razones políticas, el autor abandonó su país en 1973, iniciando un largo exilio de doce años que lo llevó a residir en Argentina, Perú, Cuba y España, y que dio lugar a ese proceso posterior que a su retorno bautizó como «desexilio». Fue galardonado, entre otros, con el Premio Reina Sofía de Poesía, el Premio Iberoamericano José Martí y el Premio Internacional Menéndez Pelayo.