Los años invisibles / The Invisible Years (MAPA DE LAS LENGUAS) (Paperback)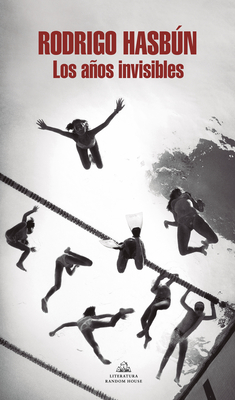 $17.95
In Stock—Click for Locations
Description
---
En Los años invisibles, un grupo de adolescentes de buena familia ve cómo un futuro brillante se desmorona a sus pies. Una novela generacional sobre las incógnitas e incertezas del paso a la adultez.

«La adolescencia es la guerra y el amor hacia todo y contra todo.» Rodrigo Hasbún

Veintiún años después y en otro hemisferio, dos amigos de la adolescencia se reúnen para revisar su pasado común, el pasado que uno de ellos está transformando en una novela. Así entablan una conversación implacable sobre las mentiras y la verdad de aquella época.

Andrea y Julián, con los nombres falsos usados en esa ficción, beben y hablan mientras cambian de bares en Houston. A medida que pasan las horas el encuentro saca a la luz aquel marzo trágico que ninguno pudo olvidar, y que marcó para siempre a su grupo de amigos de clase acomodada en Cochabamba, la ciudad de la que querían irse y a la que no piensan volver.

La nueva novela de Rodrigo Hasbún nos sumerge en el tiempo silenciado de la adolescencia. Los años invisibles es una indagación dolorosa y bella sobre el pasado y cómo lo recordamos, sobre el lugar inexpugnable que tiene en el ahora.

ENGLISH DESCRIPTION

"In The Invisible Years, a group of teenagers from a good family watch a brilliant future crumble at their feet. A generational novel about the unknowns and uncertainties of coming of age.

'Adolescence is war and love towards everything and against everything.' Rodrigo Hasbún
Twenty-one years later and in another hemisphere, two friends from their adolescence meet to reminisce about their common past, the past that one of them is transforming into a novel. Thus, they engage in a relentless conversation about the lies and truth of that time.

Andrea and Julián, with false names used in that work of fiction, drink and talk while bar-hopping in Houston. As the hours pass, the meeting brings to light that tragic March that no one could forget, and that forever marked their group of upper-class friends in Cochabamba, the city from which they wanted to escape and to which they do not intend to return.

Rodrigo Hasbún's new novel plunges us into the silenced time of adolescence. The Invisible Years is a painful and beautiful inquiry into the past, how we remember it, and about the impregnable place it has in the now. "
About the Author
---
Rodrigo Hasbún nacido en Cochabamba, Bolivia, en 1981, se consolidó en poco tiempo como uno de los escritores latinoamericanos más interesantes de su generación. Ha publicado los libros de cuentos Cinco, Los días más felices y Cuatro, un volumen de relatos escogidos titulado Nueve, la recopilación de textos de ocasión Las palabras, y las novelas El lugar del cuerpo, Los afectos y Los años invisibles. El Hay Festival y Bogotá Capital Mundial del Libro lo eligieron en 2007 como uno de los 39 escritores latinoamericanos menores de 39 años más importantes del continente para formar parte de Bogotá39, y en 2010 la revista Granta lo seleccionó como uno de los 22 mejores escritores jóvenes en español. Con guiones de su coautoría, dos de sus textos fueron llevados al cine, y su obra ha sido traducida a una decena de idiomas.
Praise For…
---
Reseñas:

«Leer a Rodrigo Hasbún es un ajuste de sentidos: acostumbrar los ojos a la oscuridad de sus profundidades, deleitarse con los chispazos del lenguaje en ellas; entrenar al oído para respetar murmullos y aplaudir estridencias. Para seguir leyendo, siempre.» -María José Navia, Ojo Seco

«La novela cala profundo, entre los miedos adolescentes que se maximizan mientras se va creciendo, entre el juego de vivir y pensar en dar o no vida [...], entre la falsedad de una clase media alta y la fragilidad de sus propias caretas.» -Claudia Eid Asbún, Los Tiempos

«Leerlo es como subir a esa "diligencia del abismo" a la que se refería Bernardo Soares, el heterónimo de Pessoa: un viaje al borde del precipicio.» -José Andrés Rojo, Babelia

«Con este libro, Hasbún acorta la distancia entre la vida y la literatura y da un nuevo paso en la órbita de esa raza de grandes escritores que se mueven y viajan en un vasto paisaje nuevo, lleno de ríos, mares, sabanas, desiertos, glaciares, galaxias por conquistar y que es la literatura.» -Alba Balderrama, Opinión

«Hasbún ha escrito una gran novela, con personajes e historias que deambulan dentro de ella y que no siempre salen bien librados de la misma. Una novela redonda y entretenida de principio a fin.» -Marcelo Paz Soldán, Página Siete