We're following all official guidelines to keep ourselves healthy on the job, and as a result, shipping may be delayed.
You will receive an email from our web orders team confirming that your order has been processed.
We thank you for your support and your patience at this challenging time.
Brooklyn / Brooklyn: A Novel (Paperback)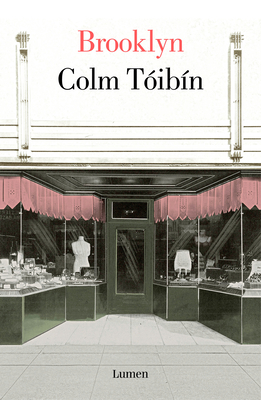 Special Order—Subject to Availability
May 2009 Indie Next List
---
"Eilis Lacey has come of age in the dark, impoverished Ireland of the 1950s. Trained as a bookkeeper but unable to find suitable work, she makes a new home in Brooklyn. Struggling to understand her new world and haunted by the old, she lives the classic immigrant story of loss and regret, hope and resilience. Brooklyn is a quiet tour de force."
— Nan Hadden, Books Etc., Falmouth, ME
March 2010 Indie Next List
---
"One of the loveliest novels of 2009 now available in paperback: an Irish coming-of-age story that is both heartrending and full of hope. Toibin is a master."
— Matthew Lage, Iowa Book L.L.C., Iowa City, IA
Summer '10 Reading Group List
---
"Eilis Lacey has no apparent future in rural Ireland, and with the help of a priest makes her way to a Catholic enclave in Brooklyn. Uncanny in its evocation of a young woman coming of age, and of a city coming of age, Brooklyn is at once interior and ironic, distanced and involving. Toibin, who is masterful here in his depiction of Brooklyn and Ireland circa 1950, and of such issues as self determination, love of country, love of family, and, of course, sexual love. Perfect for book groups!"
— Betsy Burton, The King's English, Salt Lake City, UT
Description
---
Novela sobre la fatalidad, el exilio, el amor o la familia, Brooklyn es una historia para siempre, dueña de un poder emocional sobrecogedor.

Con la templanza, el virtuosismo y la perspicacia psicológica del maestro contemporáneo que es, Colm Tóibín, uno de los mejores escritores irlandeses de nuestros días, ha construido una historia estremecedora sobre el destino cuya diáfana superficie esconde un fondo donde se abisma una complejidad inagotable.

Eilis Lacey es una chica de familia humilde que, como tantos otros, no encuentra trabajo en el pequeño pueblo del sudeste de Irlanda en el que vive. Por ello, cuando se le ofrece un puesto en Norteamérica no duda en aceptarlo.

Poco a poco, Eilis se abre paso en el Brooklyn de los años cincuenta y, a despecho de la nostalgia y los rigores del exilio, encuentra incluso un primer amor y la promesa de una nueva vida.

Inesperadamente, sin embargo, trágicas noticias de Irlanda le obligan a regresa y enfrentarse a todo aquello de lo que ha huido.

Reseña:
«Desde la primera línea en una historia de Colm Tóibín uno está sumergido por completo en una conciencia. Da igual que sea una novela o un cuento. La inmersión es la misma, y no cesa hasta el final.»
Antonio Muñoz Molina, El País

«Brooklyn-, de Tóibín, una historia de premios Óscar.»
Daniela Mendoza, La Razón

ENGLISH DESCRIPTION

Hauntingly beautiful and heartbreaking, Colm Tóibín's sixth novel, Brooklyn, is set in Brooklyn and Ireland in the early 1950s, when one young woman crosses the ocean to make a new life for herself.

Eilis Lacey has come of age in small-town Ireland in the years following World War Two. Though skilled at bookkeeping, she cannot find a job in the miserable Irish economy. When an Irish priest from Brooklyn to sponsor Eilis in America -- to live and work in a Brooklyn neighborhood "just like Ireland" -- she decides she must go, leaving her fragile mother and her charismatic sister behind.

Eilis finds work in a department store on Fulton Street, and when she least expects it, finds love. Tony, a blond Italian from a big family, slowly wins her over with patient charm. He takes Eilis to Coney Island and Ebbets Field, and home to dinner in the two-room apartment he shares with his brothers and parents. He talks of having children who are Dodgers fans. But just as Eilis begins to fall in love with Tony, devastating news from Ireland threatens the promise of her future.

By far Tóibín's most instantly engaging and emotionally resonant novel, Brooklyn will make readers fall in love with his gorgeous writing and spellbinding characters.
About the Author
---
Colm Tóibín (Enniscorthy, 1955) es uno de los mejores escritores irlandeses de nuestro tiempo. De su obra cabe destacar las novelas The Master (2004) y El testamento de María (Lumen, 2014), que se ha convertido en una obra de teatro. Brooklyn, su obra de ficción más conocida, fue publicada por Lumen en 2010 y ahora vuelve a las librerías acompañando la película del mismo título, dirigida por John Crowley. Nora Webster es su novela más reciente. Tóibín Es también un excelente crítico literario, como demuestran las piezas recogidas en el volumen Nuevas maneras de matar a tu madre (Lumen, 2013).