La vida a ratos / Life in Intervals (Paperback)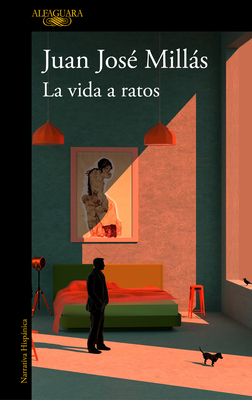 $19.95

Special Order—Subject to Availability
Description
---
Vuelve el ingenio de Millás con el diario divertido y surrealista de un neurótico brillante.
En La vida a ratos el lector es tan protagonista como el narrador, porque descubre en secreto un relato que, en la ficción, no ha sido creado para ser conocido por nadie más que aquel que lo escribe.
Es el diario de más de tres años de vida de un personaje -curiosamente también llamado Juan José Millás-, que se muestra tan libre, tan neurótico, y divertido, e irónico e hipocondriaco como solo nos mostramos cuando nadie nos ve. Las visitas a la psicoanalista, el taller de escritura, los paseos por una ciudad que no deja de colocarle ante situaciones sorpresivas, la familia, los amigos... Todo es normal, todo parece anodino hasta que, al volver una esquina de la realidad, aparece lo extraordinario, lo surrealista.
Y nos deslumbra.

ENGLISH DESCRIPTION

Millás's genius is back with the fun, surrealist diary of a brilliant neurotic.

In La vida a ratos / Life in Intervals, the reader is as much a protagonist as the narrator, because you secretly discover a tale that presumably wasn't created to be seen by anyone but its writer.

It is the diary of more than three years in the life of a character—curiously also named Juan José Millas—who seems as free, as neurotic, as fun, and as ironic and hypochondriac as we are only when nobody else can see us. The therapist visits, the writing workshop, the walks through a city that never stops placing him in surprising situations, his family, his friends… everything is normal; everything seems bland until, turning a corner from reality, the extraordinary—the surreal—appears. 
About the Author
---
Escritor y periodista español, 
Juan José Millás
 nació en Valencia, pero con seis años se trasladó a Madrid, donde creció y cursó finalmente estudios de Filosofía y Letras en la Universidad Complutense de Madrid, al tiempo que trabajaba como interino en la Caja Postal, abandonando al tercer curso.
Millás ejerció la docencia en un colegio y obtuvo más tarde un trabajo como administrativo en Iberia, con un horario que le permitía escribir por las tardes, como así hizo.
Millás publicó por primera vez en 1972, continuando progresivamente con su labor literaria hasta que al comienzo de los años noventa, comenzó a escribir en El País, y posteriormente en El Sol, lo que le permitió abandonar su trabajo para dedicarse exclusivamente al literario y periodístico.
Entre otros honores y premios, Millás ha conseguido el Nadal de 1990, el Planeta del 2007 y el Nacional de Literatura en su modalidad de narrativa en el año 2008. De su obra cabría destacar títulos como La soledad era esto, Cuerpo y prótesis, El mundo o Lo que sé de los hombrecillos, por mencionar sólo unos pocos.
Praise For…
---
Críticas:
«Una pirueta, un salto mortal del acróbata Juan José Millás [...]. Y sin red.».-Manuel Llorente, La Esfera (El Mundo) (sobre Que nadie duerma)
«Millás: ocurrente, descabellado, familiar e inquietante. Siempre inconfundible.».-J. A. Masoliver Ródenas, Cultura/s, La Vanguardia
«Millás es uno de los escritores con más verdad por centímetro cuadrado de página.».-Antonio Iturbe, Qué Leer
«Juan José Millás es dueño de un territorio fantástico de incuestionable personalidad.».-J. E. Ayala-Dip, El País
«Una novela inquietante y rabiosamente actual.».-Ana Rodríguez Fischer, Babelia (sobre La mujer loca)
«El jardín vacío es difícilmente superable, pues no me parece posible escribir algo más hermosamente triste sin perecer.».-La Vanguardia
«La sutileza del novelista incorpora la ironía a veces cruel, a veces sarcástica, del columnista de opinión mientras la desesperanza del presente se ilumina como si su tema no fuese la sublevación contra la indolencia del poder o su inoperancia: asedia desde dentro e irónicamente, piadosamente, la experiencia del capitalismo salvaje digerido por todos, comprendido por todos, tolerantemente asumido por todos.».-Jordi García, Babelia (sobre Desde la sombra)
«Juan José Millás entremezcla lo verdadero con lo hipotético, tejiendo una novela singular en la que el deseo de vivir y el deseo de amar se confunden.».-Rolling Stone
«El jardín vacío es difícilmente superable, pues no me parece posible escribir algo más hermosamente triste sin perecer.».-La Vanguardia