Los malditos / The Damned: Cronica negra desde Puente Grande (Paperback)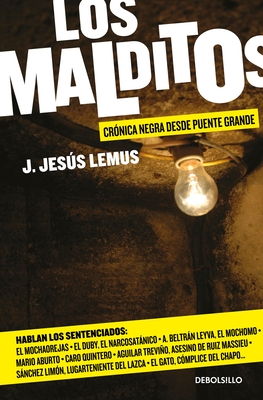 $11.95
Special Order—Subject to Availability
Description
---
En estos textos, hilvanados poco a poco tras amargos amaneceres detrás de los barrotes, se describen hechos cotidianos simples de un hombre simple, llevado al extremo de su condición humana...

He aquí una crónica desgarradora que conduce de la mano al lector a través de los intrincados y hediondos pasillos de la cárcel federal de Puente Grande, donde durante tres años Jesús Lemus vivió una auténtica temporada en el infierno y padeció los brutales mecanismos punitivos del sistema penitenciario mexicano.

En 2008, cuando Jesús Lemus dirigía el periódico El Tiempo de La Piedad, Michoacán, publicó diversas notas que irritaron a las autoridades locales. La venganza de los poderosos no se hizo esperar: le fabricaron cargos criminales y lo enviaron al penal de máxima seguridad de Puente Grande. Después de varios años encerrado e incontables tribulaciones, Lemus consiguió la libertad. Gracias a la fuerza que el oficio de periodista le brindó, se decidió a contar su historia y la de aquellos hombres con los que compartió torturas y humillaciones.

En las condiciones de reclusión más adversas, el autor registró las conversaciones que sostuvo en el área de segregación denominada Centro de Observación y Clasificación, donde día a día luchan por sobrevivir los presos de más alta peligrosidad, la llamada "selección nacional del crimen".

Al amparo del frío de la madrugada, las voces de "los malditos" comienzan a desfilar. Entre otros, hablan Daniel Arizmendi, El Mochaorejas; El Duby, ex integrante de los narcosatánicos; Juan Sánchez Limón, un lugarteniente del Lazca; Alfredo Beltrán Leyva, El Mochomo; Daniel Aguilar Treviño, el asesino confeso de José Francisco Ruiz Massieu; Mario Aburto; Rafael Caro Quintero y El Gato, un extraño personaje que hace confesiones insólitas y revela pasajes desconocidos de cómo eran los días en el penal cuando El Chapo Guzmán estaba preso.

English DescriptionIn these texts, patched together little by little through bitter dawns behind bars, we see the simple, everyday events of a simple man, pushed to the extremes of his human condition." In 2008, when Jesús Lemus was directing the newspaper El Tiempo in La Piedad, Michoacán, he published several news items that irritated the local authorities. The revenge of those in power was not far behind: they fabricated criminal charges and sent him to the maximum security prison in Puente Grande, where he lived through a true hell and suffered from the brutal punitive mechanisms of the Mexican penitentiary system. After several years in prison and uncountable tribulations, Lemus gained his freedom. Thanks to the strength that his journalistic career gave him, he decided to tell his story and that of those men with whom he suffered torture and humiliation. In the most adverse conditions of confinement, the author captured conversations that he had with the members of the so-called "National Crime Team." But before digging into the causes of imprisonment, he concentrated on getting proof of life from within the prison.
About the Author
---
J. Jesús Lemus es un periodista desplazado. En mayo de 2008 lo secuestraron y lo encarcelaron en una prisión de máxima seguridad, donde fue procesado y sentenciado por una venganza desde el poder. Lo absolvieron en mayo de 2011. Las organizaciones Reporteros Sin Fronteras y la Casa de los Derechos de los Periodistas acompañaron su caso. A su salida de la prisión, desde donde describió el horror de la cárcel, ganó en Holanda el premio internacional Pluma a la Libertad de Expresión, que otorga la fundación no gubernamental Oxfam Novib / Rory Peck. Actualmente colabora para Reporte Índigo, donde da cobertura a temas de política, seguridad nacional y narcotráfico. Es autor de Los malditos (2013), Cara de Diablo (2014), Michoacán en guerra (2014), Mireles, el rebelde (2014), Tierra sin Dios (2015) y El último infierno. Los malditos 2 (2016), títulos publicados bajo sellos de Penguin Random House. Su actividad de escritor y periodista la compagina con labores de tallerista. Actualmente imparte un diplomado en periodismo para reporteros empíricos en varios estados del país.