Space Kids: A First Introduction for Little Explorers (Hardcover)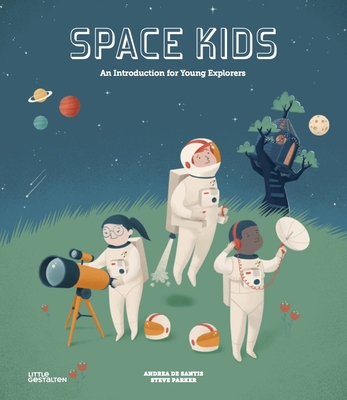 $24.95

Not On Our Shelves—Ships in 1-5 Days
Description
---
Space Kids is a a poetic introduction to Space that is aimed to inspire wonder in the littlest of scientists.

Space is all around us, but how much do we know? Where do we even begin... Space Kids is designed to form the building blocks from which we can all learn about the universe. Covering topics such as stars, planets, moons and rockets as well as the basics of gravity and how astronauts eat and sleep in space; Space Kids moves through the complexities of the universe with fresh and original style. Andre DeSantis' beautifully rendered illustrations spark the imagination whilst Steve Parker's simple text brings a sense of awe to the biggest of topics.
Space Kids teaches young astronauts about space but also serves as reminder about how special we are on planet Earth.  This little corner in the vast universe is host to an abundance of life and the most spectacular is the tiny human who is holding this very book. we are on planet Earth. All the elements that form our spectacular universe A must have introduction for any budding young scientist.
About the Author
---
Steve Parker: Steve Parker is a specialist of the natural world and general sciences. He has a First Class Honours BSc in Zoology and is Senior Scientific Fellow of the Zoological Society. He has co-authored and edited over 300 non-fiction titles including  Science Crackers; Frizzing Physics, and Science A Children's Encyclopaedia. When it comes to science his formula is simple: remember the two I's, information and imagination.

Andre De Santis: Andre De Santis is an illustrator and graphic designer based in Ascelo Piscena, Italy. His contemporary graphic style has gained him commission for international publications, animations and cover designs.