We're following all official guidelines to keep ourselves healthy on the job, and as a result, shipping may be delayed.
You will receive an email from our web orders team confirming that your order has been processed.
We thank you for your support and your patience at this challenging time.
Wink (Hardcover)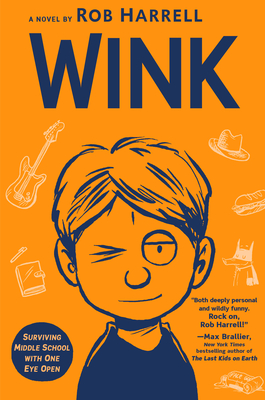 Description
---
A hilarious and heartwrenching story about surviving middle school--and an unthinkable diagnosis--while embracing life's weirdness.

Ross Maloy just wants to be a normal seventh grader. He doesn't want to lose his hair, or wear a weird hat, or deal with the disappearing friends who don't know what to say to "the cancer kid." But with his recent diagnosis of a rare eye cancer, blending in is off the table.

Based on Rob Harrell's real life experience, and packed with comic panels and spot art, this incredibly personal and poignant novel is an unforgettable, heartbreaking, hilarious, and uplifting story of survival and finding the music, magic, and laughter in life's weirdness.
About the Author
---
Rob Harrell created the Life of Zarf series, the graphic novel Monster on the Hill, and also writes and draws the long-running daily comic strip Adam@Home, which appears in more than 140 papers worldwide. He created and drew the internationally syndicated comic strip Big Top until 2007. He lives with his wife in Indiana.
Praise For…
---
"Harrell's genius is making all of it feel authentic for a seventh grader, a teenager who, like countless others, just wants to be normal . . . Bodies change, people change, life continues. It's a lesson a lot of us have been learning, and relearning, in recent days." —New York Times Book Review

★ "Filled with the same sardonic humor and celebration of atypical friendships as his Life of Zarf series, Harrell draws from personal experience to track the wild emotional roller coaster a seventh-grader rides after being diagnosed with a rare tear duct cancer." —Booklist, starred review 

★ "This page-turner is not to be missed." —School Library Connection, starred review

★ "Amusing black-and-white comics trace his unsavory experiences, capture the ironies of his predicament, and underline his creativity and sense of humor . . . This lively novel showcases the author's understanding of middle school angst amid the protagonist's experience with a serious illness." —Publishers Weekly, starred review

"The author balances this anger element well against the typical middle-grade tropes . . . While some of these elements will feel familiar, the novel's emotional climax remains effectively earned . . . Not your typical kid-with-cancer book."  —Kirkus

"The story's beauty lies in how Ross's life unfolds and opens . . . This title is delightfully good and different. Highly recommended." —School Library Journal