We're following all official guidelines to keep ourselves healthy on the job, and as a result, shipping may be delayed.
You will receive an email from our web orders team confirming that your order has been processed.
We thank you for your support and your patience at this challenging time.
Vita Nostra (MP3 CD)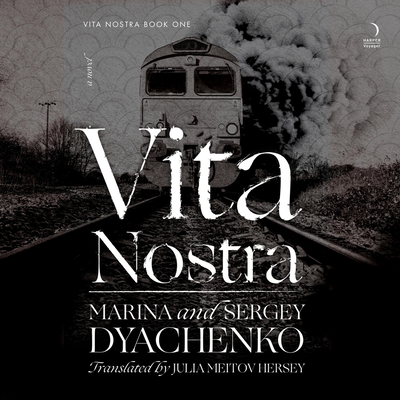 $39.99
Special Order—Subject to Availability
December 2018 Indie Next List
---
"One part coming-of-age parable and one part psychological horror, this book combines dark fantasy with contemporary magical realism, and I can't stop thinking about the resulting magnificence weeks after finishing it. Beautifully translated from its original Russian, Vita Nostra brilliantly explores the period in early adulthood where we consider the price we're willing to pay to discover our full potential, and how we make ourselves vulnerable when we strive for outside approval."
— Ilana Darrant, Bookshop Santa Cruz, Santa Cruz, CA
Description
---
The definitive English language translation of the internationally bestselling Russian novel--a brilliant dark fantasy with the potential to be a modern classic (Lev Grossman), combining psychological suspense, enchantment, and terror that makes us consider human existence in a fresh and provocative way.
Our life is brief . . .
While vacationing at the beach with her mother, Sasha Samokhina meets the mysterious Farit Kozhennikov under the most peculiar circumstances. The teenage girl is powerless to refuse when this strange and unusual man with an air of the sinister directs her to perform a task with potentially scandalous consequences. He rewards her effort with a strange golden coin.
As the days progress, Sasha carries out other acts for which she receives more coins from Kozhennikov. As summer ends, her domineering mentor directs her to move to a remote village and use her gold to enter the Institute of Special Technologies. Though she does not want to go to this unknown town or school, she also feels it's the only place she should be. Against her mother's wishes, Sasha leaves behind all that is familiar and begins her education.
As she quickly discovers, the institute's special technologies are unlike anything she has ever encountered. The books are impossible to read, the lessons obscure to the point of maddening, and the work refuses memorization. Using terror and coercion to keep the students in line, the school does not punish them for their transgressions and failures; instead, their families pay a terrible price. Yet despite her fear, Sasha undergoes changes that defy the dictates of matter and time; experiences which are nothing she has ever dreamed of . . . and suddenly all she could ever want.
A complex blend of adventure, magic, science, and philosophy that probes the mysteries of existence, filtered through a distinct Russian sensibility, this astonishing work of speculative fiction--brilliantly translated by Julia Meitov Hersey--is reminiscent of modern classics such as Lev Grossman's The Magicians, Max Barry's Lexicon, and Katherine Arden's The Bear and the Nightingale, but will transport them to a place far beyond those fantastical worlds.