Everything You Should Know About: Athens Faster Learning Facts (Paperback)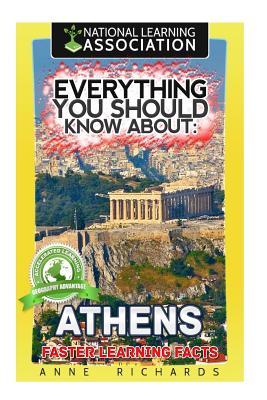 $11.99
Not On Our Shelves—Ships in 1-5 Days
Description
---
National Learning Association presents: EVERYTHING YOU SHOULD KNOW ABOUT: ATHENS FASTER LEARNING FACTS
Are your children curious about Athens? Would they like to know what the Acropolis looks like? Have they learnt what the Parthenon is or what famous people come from Athens? Inside this book, your children will begin a journey that will satisfy their curiosity by answering questions like these and many more
EVERYTHING YOU SHOULD KNOW ABOUT: ATHENS will allow your child to learn more about the wonderful world in which we live, with a fun and engaging approach that will light a fire in their imagination.
We're raising our children in an era where attention spans are continuously decreasing. National Learning Association provides a fun, and interactive way of keep your children engaged and looking forward to learn, with beautiful pictures, coupled with the amazing, fun facts.
Get your kids learning today Pick up your copy of National Learning Association EVERYTHING YOU SHOULD KNOW ABOUT: ATHENS book now Table of Contents Chapter 1- Where is Athens? Chapter 2- How Old is Athens? Chapter 3- What is the Acropolis? Chapter 4- What is the Parthenon? Chapter 5- What is the Tallest Building in Athens? Chapter 6- What Do People Eat in Athens? Chapter 7- What Kind of Transportation Do People Use in Athens? Chapter 8- What is the Odeon of Herodes Atticus? Chapter 9- What Kind of Sports Do They Play in Athens? Chapter 10- Where is the Philopappos Hill? Chapter 11- Where is the National Park? Chapter 12- What Famous People Come From Athens? Chapter 13- Why is the Port of Piraeus Important? Chapter 14- Where is Plaka? Chapter 15- What is the Agora? Chapter 16- What is the Monastiraki? Chapter 17- How Old is the National Archaeological Museum? Chapter 18- How Old is the Temple of the Olympian Zeus? Chapter 19- What is the Arch of Hadrian? Chapter 20- What is the Erechtheion?