Politics and Prose will be closed on January 20.
Agaat (Paperback)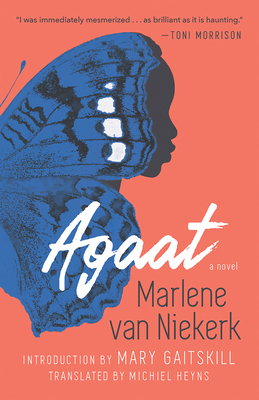 $18.95
In Stock—Click for Locations
Description
---
"I was immediately mesmerized . . . as brilliant as it is haunting." —Toni Morrison
In 1940s apartheid South Africa, Milla de Wet discovers a child abandoned in the fields of her family farm. Ignoring the warnings of friends and family, Milla brings the girl, Agaat, into her home. But the kindness is fleeting, as Milla makes Agaat her maidservant and, later, a nanny for her son. At turns cruel and tender, this relationship between a wealthy white woman and her Black maidservant is constantly fraught and shaped by a rigid social order.
Decades later, Milla is confined to her bed with ALS, and is quickly losing her ability to communicate. Her family has fallen apart, her country is on the brink of change, and all she has left are her memories—and a reckoning with the only person who remains by her side: Agaat. In complex and devastating ways, the power shifts between the two women, mirroring the historic upheavals happening around them and revealing a shared lifetime of hopes, sacrifices, and control.
Hailed as an international masterpiece, Marlene van Niekerk's Agaat is a haunting and deeply layered saga of resilience, loyalty, betrayal, and how the passage of time cannot heal all wounds.
About the Author
---
Marlene Van Niekerk is an award-winning poet, novelist and short story writer. She was awarded South Africa's high honour, the Order of Ikhamanga, in 2011 for her outstanding intellectual contribution to the literary arts and culture field through poetry, literature and philosophical works. She has received many accolades, including being a finalist for the sixth Man Booker International Prize 2015 and shortlisted for the South African Sunday Times Literary Prize, the M-Net Literary Prize, the Booksellers' Choice Award South Africa and the Independent Foreign Fiction Prize.

Michiel Heyns is an award-winning literary translator and author of nine novels: The Children's Day, The Reluctant Passenger, The Typewriter's Tale, Bodies Politic, Invisible Furies, Lost Ground, A Sportful Malice, I am Pandarus, and A Poor Season for Whales. He was previously professor of English at the University of Stellenbosch.

Mary Gaitskill is the author of several novels (most recently The Mare) and story collections (most recently Don't Cry), as well as a collection of essays and criticism titled Somebody with a Little Hammer and the novella This Is Pleasure. She is currently a Podlich Fellow at Claremont McKenna College.
Praise For…
---
The most important South African novel since Coetzee's Disgrace.


Books like Agaat . . . are the reason people read novels, and the reason authors write them.


This is a frank novel about a white South African landowner and her lifelong servant in a radically changing country.

One of the most extraordinary works that I have ever encountered. . . . van Niekerk exposes all of the nuances of the women's fraught and volatile relationship with language that is brutally raw, honest, and uncommonly beautiful. Simply a masterpiece.

A family saga of mothers and daughters . . . and a poetic exploration of control and the loss of control. It's a stylishly inventive book.

Wonderful.

Momentous. . . . It is an allegory of colonial exploitation, apartheid, and the precarious steps towards reconciliation.

This novel stuns.

An innovative epic.

Agaat is a tangle of language and rhyme, of wordplay and digressions. . . . Both absorbing in its minutiae and provocative in its allegorical approach to apartheid, Agaat explodes the domestic sphere to encompass the world.


In addition to its vivid emotional resonance, Agaat is notable for the wealth of detail it imparts about rural life in South Africa before industrialized farming.


Fascinating and moving, this is, above all, a love story.

van Niekerk has created a work of stunning breadth and emotional potency.

A masterpiece has arrived.