Magical Negro (Paperback)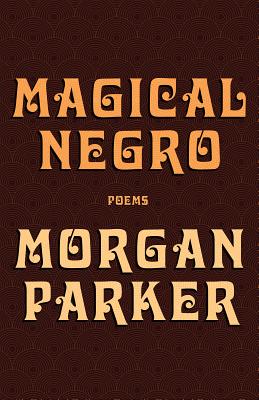 $15.95
In Stock—Click for Locations
Description
---
A National Book Critics Circle Poetry Award Winner!
From the breakout author of There Are More Beautiful Things Than Beyonc comesa profound and deceptively funny exploration of Black American womanhood.

"Morgan Parker's latest collection is a riveting testimony to everyday blackness . . . It is wry and atmospheric, an epic work of aural pleasures and personifications that demands to be readboth as an account of a private life and as searing political protest." TIME Magazine

A Best Book of 2019 at TIME, Elle, BuzzFeed, the Star Tribune, AVClub, and more.
A Most Anticipated Book of 2019 at Vogue,O: the Oprah Magazine, NYLON, BuzzFeed, Publishers Weekly,and more.
Magical Negro
is an archive of black everydayness, a catalog of contemporary folk heroes, an ethnography of ancestral grief, and an inventory of figureheads, idioms, and customs. These American poems are both elegy and jive, joke and declaration, songs of congregation and self-conception. They connect themes of loneliness, displacement, grief, ancestral trauma, and objectification, while exploring and troubling tropes and stereotypes of Black Americans. Focused primarily on depictions of black womanhood alongside personal narratives, the collection tackles interior and exterior politicsof both the body and society, of both the individual and the collective experience. In
Magical Negro
, Parker creates a space of witness, of airing grievances, of pointing out patterns. In these poems are living documents, pleas, latent traumas, inside jokes, and unspoken anxieties situated as firmly in the past as in the presenttimeless black melancholies and triumphs.
About the Author
---
Morgan Parker is a poet, essayist, and novelist. She is the author of the young adult novel Who Put This Song On? and the poetry collections There Are More Beautiful Things Than Beyonc and Magical Negro, which won the 2019 National Book Critics Circle Award. Parkers debut book of nonfiction is forthcoming from One World. She is the recipient of a National Endowment for the Arts Literature Fellowship, winner of a Pushcart Prize, and has been hailed by The New York Times as a dynamic craftsperson of considerable consequence to American poetry.
Praise For…
---
Morgan Parker's latest collection is a riveting testimony to everyday blackness . . . It is wry and atmospheric, an epic work of aural pleasures and personifications that demands to be readboth as an account of a private life and as searing political protest.
— Glory Edim - TIME

2019 justly belongs to Morgan Parker. Her poems shred me with their intelligence, dark humor and black-hearted vision. Parker is one of this generations best minds, able to hold herself and her world, which includes all of us, up to impossible lights, revealing every last bit of our hopes, failings, possibilities and raptures.
— Danez Smith - T Magazine

This collection further evidences Morgan Parkers considerable consequence in American poetry.
— The New York Times

Morgan Parker continues to fearlessly explore what it means to be a black woman in the United States today. . . . Bold and edgy, the writing spotlights the strength and tenacity that enable the speaker to survive grief and inequity.Italso gives voice to her disappointments and delights as she claimsand proclaimsagency over her body and her life.
— The Washington Post

From dating white boys to imagining what Diana Ross was thinking in that famous photo where she licks her fingers after eating a pair of ribs, Parkers second poetry collection runs the gamut. But each poem is written with her signature wry humor and caustic honesty.
— BuzzFeed

Morgan Parkers poetry is vital, in both senses of the word. Her most recent collection,There Are Things More Beautiful Than Beyonc,was an absolute knockouta breathtaking exploration of black womanhood, culture both pop and past, bodies, minds. Poetrys defenders need not answer those who would sing its dirges, but if they did, Parkers work could serve as an indisputable response.
— Literary Hub

Told with Parkers signature lyricism and humor; her poems have the ability to soothe and to incite, she nimbly creates spaces for you to rest while reading, and let the power of her words and message sink into you like a heavy stone into water, or a hot knife through butter. Its nothing short of triumphant.
— NYLON

Parkers voice is surprising, ranging from elegiac to conspiratorial to ecstatic; she interrogates both blackness and femininity like ports in a long personal journey, as places to land but also as points of departure.
— Vogue

Fierce, playful and political, Parkers poems celebrate the everyday just as they face off ancestral hurt. . . .Holding history and the contemporary to account,Magical Negromeets prejudice with an unwavering eye.
— The Guardian

Parkers poetry seamlessly intertwines moments of intimate introspection, euphoria, desire, and sorrow with reflections on the psychological and spiritual legacy of Black America.
— Broadly

Parker's poetry is lyrical, humorous and bold. She holds nothing back in this collection, and the reader never asks her to.
— Marie Claire

As witnessed in this third collection, blackness cannot be confined to a simple definition. Parker writes of the black experience not as an antidote or opposite to whiteness, but a culture and community where irreplicable nuances are created in spite of, not because of, pain and trauma.
— Publishers Weekly (Starred Review)

Its a clich to call a work of art a conversation starter, but this book is. One could spend hours discussing not only the whole collection, but each individual poem. . . . Dizzyingly interdisciplinary . . . A book that delights and astonishes even as it interrogates.
— The Los Angeles Review of Books

A searing indictment, an irreverent lampoon, and a desperately urgent work of poetry, to be read alongside the work of Eve L. Ewing, Tiana Clark, and Nicole Sealey.
— Booklist

If you're anxious for your snug perspective to be rattled and ripped asunder, for the predictable landscape you stroll to become all but unrecognizable, for things you thought you knew to slap you into another consciousnessbrethren, have I got the book for you. Bey's bestie continues her reign with this restless, fierce, and insanely inventive way of walking through the world. Once again, childrenignore Ms. Parker at your peril.
— Patricia Smith

Magical Negro is unsettlingly new: a book that incisively explores states of black womanhood with astonishing buoyancy and grief. I can't stop thinking about the songs it sings, songs that feel inevitable and yet unvoiced, complex and yet urgent; poems that are steeped in pop culture and the here-and-now of actual life while also being refracted through the darkest lens of American history. To read it is to wonder what each poem will do next, and to be reminded, over and over, of Parker's extraordinary lyric gifts.
— Meghan O'Rourke
Coverage from NPR