Surveying in Early America: The Point of Beginning, An Illustrated History (Paperback)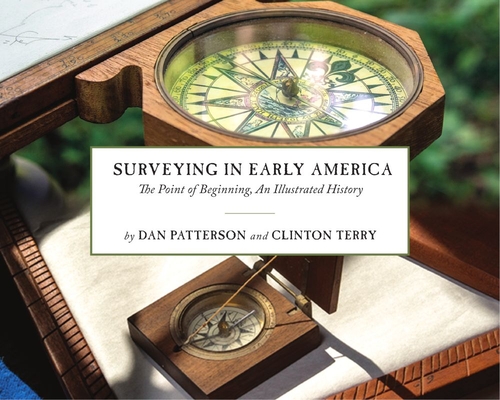 $34.94

In Stock—Click for Locations
Description
---
Living history is one of the most popular, and accessible ways for people of all ages to step back in time. From Colonial Williamsburg, to Mount Vernon, to signs along roadways identifying George Washington stopping points, living history continues to be an accessible way to learn about cultural, historical and political practice in early America.
 
In Surveying Early America: The Point of Beginning, An Illustrated History, award-winning photographer Dan Patterson and American historian Clinton Terry vividly and succinctly unpack the profession of surveying during the eighteenth century. Over 100 full color photographs exclusively shot for the book depict authentic and historically accurate reproductions of techniques and tools through the use of American reenactors from the Department of Geographer, which provide an interpretive look at surveying as a primary means to building the American nation.
 
Through the lens of Patterson's camera and Terry's narrative, readers see what Washington saw as he learned his trade, explored the vast American wilderness, and occasionally laid personal claim to great expanses of land. Readers are visually and intellectually immersed in the historically accurate details of the surveying practices of George Washington, Virginia's first surveyor and his team.
 
Step-by-step, readers learn how early America, in particular the east to the Ohio River Valley was initially divided and documented. Terry characterizes both the profession and methods of land measurement and surveying in British colonial North America—techniques that did not substantially change until the invention of GPS technology 200 years later. Along the way Terry details the various tools of the trade early surveyors used.
 
Photographer Dan Patterson, working with the Department of the Geographer, restages Washington's actual expeditions during his time with the Geographers to the Army, the technical staff department consisting of American and French soldiers, whose work in the field supported the Continental Army. Patterson brilliantly displays the processes and instruments Washington used 260 years ago.

Together Ohio based photographer and author team up to create a single story, expanding the understanding of primary source material for general readers and those with a passion for early American history.
 
About the Author
---
Dan Patterson is an award-winning photographer and author of over thirty books on historical subjects. He has taught at University of Dayton and Northern Kentucky University.

Clinton Terry is associate professor of history at Mercer University.
Praise For…
---
This highly readable and beautifully illustrated book highlights the central role that surveying played in the founding and definition of the United States, while also bringing to life a formative period in the growth of one of the greatest Founders, George Washington.
 
— Edward G. Lengel, author of First Entrepreneur: How George Washington Built His and the Nation's Prosperity and former scholar in residence at Colonial Williamsburg