We're following all official guidelines to keep ourselves healthy on the job, and as a result, shipping may be delayed.
You will receive an email from our web orders team confirming that your order has been processed.
We thank you for your support and your patience at this challenging time.
With Distance in His Eyes: The Environmental Life and Legacy of Stewart Udall (Hardcover)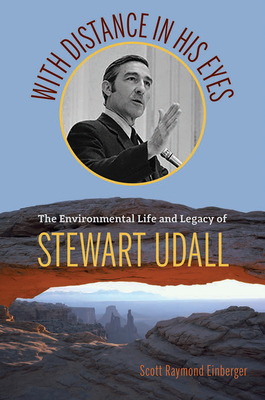 $34.95
Not On Our Shelves—Ships in 1-5 Days
Description
---
One of America's most significant architects of conservation and the environment, Stewart Udall, comes to life in this environmental biography. Perhaps no other public official or secretary of the interior has ever had as much success in environmental protection, natural resource conservation, and outdoor recreation opportunity creation as Udall. A progressive Mormon, born and raised in rural Arizona, Udall served as the U.S. Secretary of the Interior under the presidential cabinets of John F. Kennedy and Lyndon Baines Johnson from 1961-1969. During these eight years, he established dozens of new national park units and national wildlife refuges, wrote the Endangered Species Preservation Act, lobbied for unpolluted water, and offered ways to beautify urban spaces and bring the impoverished out of poverty. Later in life, he continued as an advocate for conservation and the environment, specifically by proposing solutions to the challenges associated with global warming and the widespread use of oil.

What can we learn from this farsighted individual?

In a day and age of partisan politics, poor congressional approval ratings, and global warming and climate change, this captivating biography offers a profound and historical record into Udall's life-long devotion to environmental issues he cared about most deeply—issues more relevant today than they were then. Intimate moments include Udall's learning of the Kennedy assassination, his push for civil rights for African Americans, his meeting in the U.S.S.R. with Nikita Khrushchev—the first Kennedy cabinet member to do so—and his warnings about global warming 50 years prior to Al Gore's Nobel Prize-winning film.
About the Author
---
Scott Einberger is an environmental historian and public lands enthusiast. He lives in Washington, DC.
Praise For…
---
"This carefully researched, absorbing biography documents the remarkable environmental legacy of Stewart Udall. . . . Einberger offers extensive notes validating the material in each chapter. He also draws several perceptive conclusions about Udall's lifework, not the least of which is that he served 'as a model for "working together" and bipartisanship.' This is a relevant biographical study of a significant American environmentalist."
— Foreword Reviews
"With Distance in His Eyes is an impressive dive into the life and times of a Western native son. That it is an unabashed valentine is something that most Santa Feans will welcome and eagerly embrace."
— Santa Fe Mexican
"With Distance in His Eyes describes a truly amazing record of effort on behalf of the American people to conserve and protect public resources and care for their needs as they were served by the vast reach of the Department of Interior. This 'small' 280-page book is a summary of Udall's efforts on behalf of the environment from 1960-'68 and beyond."
— National Parks Traveler
With Distance in His Eyes offers a concise environmental biography that will appeal to those primarily interested in Udall's conservation legacy, providing a useful primer to the issues and concerns underpinning the environmental movement during the 1960s, and the book should find a ready audience in undergraduate classrooms.
— Environmental History
This book has value in recalling a major environmental champion—something sorely needed in today's political climate. 
— Western Historical Quarterly