Bird Brainiacs: Activity Journal and Log Book for Young Birders (Spiral)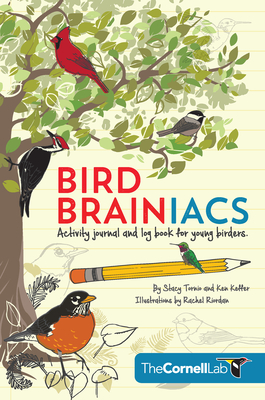 $14.95
Not On Our Shelves—Ships in 1-5 Days
Description
---
Bird Brainiacs is an interactive high-engagement journal for kids 8 - 13 who love birds--one that puts control of the experience in their hands. Throughout the pages, kids are encouraged to write, draw, and give their opinions about anything and everything related to birds. Yet, this is done in the most fun (and sometimes even silly) ways. Here are some of the things you'll come across in Bird Brainiacs
Quizzes
Mad-Lib style fill-ins
Personality questionnaires
Game ideas
"Would you rather?" scenarios
Citizen science challenges
Nature challenges
Nature truth or dare
...and of course--bird facts and space to log their bird sightings
Bird Brainiacs
combines the popularity of diaries and journals along with the important subject matter of getting kids outside and learning about birds. Kids will learn things about themselves that they never knew, and it will be documented so they can look back on it for years to come. In addition, they will learn interesting facts and tidbits about the great outdoors.
35% of the net proceeds from the sale of Bird Brainiacs goes directly to support projects at the Cornell Lab of Ornithology, including children's educational and community programs.
About the Author
---
Stacy Tornio has written six nature and gardening books that all focus on getting kids and families outside. She is a native Oklahoman who now resides in Greenfield, Wisconsin, where she enjoys watching her two children explore nature in their own backyard and beyond. She has numerous freelance credits to her name, and she was formerly the editor of the national birding and gardening magazine, Birds & Blooms.Ken Keffer was born and raised in Wyoming. He received a B.A. degree from the University of Wyoming in Wildlife Biology and Management and has worked extensively as an environmental educator. Ken is also a freelance writer who has contributed to Birds & Blooms magazine, Parks and Recreation, and Outdoors Unlimited. Ken lives in Milwaukee, Wisconsin.Rachel Riordan is an illustrator, designer, and crafty mama living and working in rural Ontario, Canada. Her work has been featured in advertising, editorials, and children's books. Rachel illustrated The Kids' Outdoor Adventure Book and The Truth About Nature titles with Stacy and Ken.