We're following all official guidelines to keep ourselves healthy on the job, and as a result, shipping may be delayed.
You will receive an email from our web orders team confirming that your order has been processed.
We thank you for your support and your patience at this challenging time.
Tell the Truth & Shame the Devil: The Life, Legacy, and Love of My Son Michael Brown (Hardcover)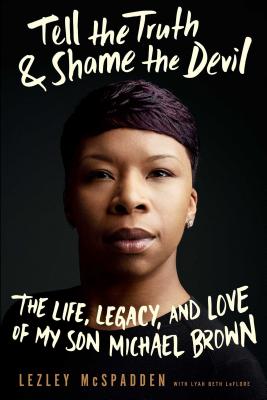 Description
---
The revelatory memoir of Lezley McSpadden—the mother of Michael Brown, the African-American teenager killed by the police officer Darren Wilson in Ferguson, Missouri on August 9, 2014—sheds light on one of the landmark events in recent history.

"I wasn't there when Mike Mike was shot. I didn't see him fall or take his last breath, but as his mother, I do know one thing better than anyone, and that's how to tell my son's story, and the journey we shared together as mother and son." —Lezley McSpadden

When Michael Orlandus Darrion Brown was born, he was adored and doted on by his aunts, uncles, grandparents, his father, and most of all by his sixteen-year-old mother, who nicknamed him Mike Mike. McSpadden never imagined that her son's name would inspire the resounding chants of protesters in Ferguson, Missouri, and ignite the global conversation about the disparities in the American policing system. In Tell the Truth & Shame the Devil, McSpadden picks up the pieces of the tragedy that shook her life and the country to their core and reveals the unforgettable story of her life, her son, and their truth.

Tell the Truth & Shame the Devil is a riveting family memoir about the journey of a young woman, triumphing over insurmountable obstacles, and learning to become a good mother. With brutal honesty, McSpadden brings us inside her experiences being raised by a hardworking, single mother; her pregnancy at age fifteen and the painful subsequent decision to drop out of school to support her son; how she survived domestic abuse; and her unwavering commitment to raising four strong and healthy children, even if it meant doing so on her own. McSpadden writes passionately about the hours, days, and months after her son was shot to death by Officer Darren Wilson, recounting her time on the ground with peaceful protestors, how she was treated by police and city officials, and how she felt in the gut-wrenching moment when the grand jury announced it would not indict the man who had killed her son.

After the system failed to deliver justice to Michael Brown, McSpadden and thousands of others across America took it upon themselves to carry on his legacy in the fight against injustice and racism. Tell the Truth & Shame the Devil is a portrait of our time, an urgent call to action, and a moving testament to the undying bond between mothers and sons.
About the Author
---
Lezley McSpadden is the mother of Michael Brown, and founder of The Michael O. D. Brown We Love Our Sons & Daughters Foundation. The organization advocates for justice, improving health, advancing education, and strengthening families. McSpadden also founded its signature program, Rainbow of Mothers, which was established to support mothers who have suffered the devastating loss of a child. She lives in St. Louis, MO with her family.

Lyah Beth LeFlore is the author of eight books, including the novels Last Night a DJ Saved My Life and Wildflowers; the teen book series The Come Up; the New York Times bestseller I Got Your Back, and NAACP Image Award–winning The Strawberry Letter. LeFlore is also a television and film producer who has been profiled in the New York Times, Essence, Ebony, and Entertainment Weekly.
Praise For…
---
"A vivid, compelling account of a life on the edge."



—Kirkus

"In a year where clashes between young black men and law enforcement fueled concern, and even anger, the death of Michael Brown could have been just one more incident raising questions about the public and policing. Instead, a community came together and ignited a firestorm of national protests that took this issue to another level. Caught in the frenzy, grieving mother Lezley McSpadden launched head first into a new life of activism. This book gives voice to her journey and allows us all to see what one mother can do to find answers."



—Soledad O'Brien

"Lezley McSpadden is putting her light out there for the world to see. She's communicating with others who've experienced unspeakable loss, and even those who will never experience what she has. She is showing how bright and purposeful Mike's life was and is. She is tirelessly working to eliminate the ignorance that led to her son's untimely death and to keep the flame alive that will forever honor his legacy."



— Common, from the introduction to Tell the Truth & Shame the Devil

"An honest, revealing walk through her own life — a personal family history crucial to understanding the full context of Michael's death and the chaos that followed."

—Washington Post

"Her resilience has inspired many."

— Time.com

Tell the Truth Shame the Devil "tells a story about the girl [Lezley] was beforeand after she gave birth to her son, the woman she grew into raising him andthe fighter she became after his tragic death . . . Lezley McSpadden helped give us a glimpse ofwhat and who Michael Brown was to her. She made him more than a hashtag or acatalyst for a movement. She made him a boy beloved. A boy whose deathrepresented a great injustice not to just the Black community but to thecountry, to the world, to humanity. And beyond the words on the page, it's heractions since then that have proven that his life, death and the sacrifices shemade and love she showed to him, weren't in vain."

— MadameNoire.com

"But as the nationflashes forward, Mike Brown's family still has to pick up the pieces. This is the story his mother, Lezley McSpadden, sharesin her new memoir, Tell the Truth and Shame the Devil."

— Colorlines.com

"By now you've heard the story of Michael Brown and his death in Ferguson, Missouri, at the hands of a police officer. His mother, Lezley McSpadden, shares her perspective on his murder and the subsequent trial in Tell the Truth & Shame the Devil. Naturally, it's absolutely tragic, but it celebrates the memory of her son and makes the case for change."

— Bustle.com

"The book chronicles McSpadden's life growing up in tough St. Louis neighborhoods, her experiences raising Brown, the devastation his shooting brought, and her push to honor his memory."

— Associated Press

"Her words will hopefully right the wrongs of a society that demonized her son before his body was even lowered into the grave . . . Tell the Truth & Shame the Devil shatters preconceived notions of who you think he was. It is his mother's story as much as it is his. Because to truly see the child, one must first understand the one who gave him life."

— Cosmopolitan