The Complete Mediterranean Cookbook: 500 Vibrant, Kitchen-Tested Recipes for Living and Eating Well Every Day (Paperback)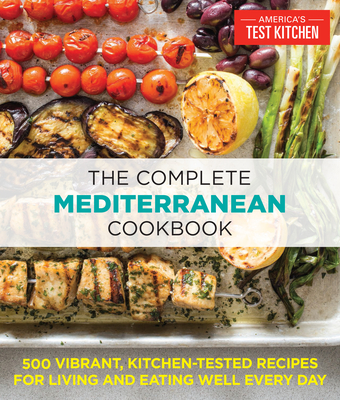 Description
---
500 recipes are now at your fingertips in a single comprehensive cookbook inspired by the renowned flavors and heart healthy diet of the Mediterranean Using the guidelines of the Mediterranean Diet Pyramid to create a variety of tapas, soups, salads, grains, pasta, flat breads, beans, vegetables, seafood, poultry, meat, eggs, fruits, and sweets. This impressive go-to kitchen resource also includes helpful tips for cooking success including:
How to integrate the Mediterranean diet into your diet;
"Why This Recipe Works" educational notes from our chefs on why a particular ingredient or technique worked best;
Recipe variations for creative inspiration;
Nutritional Information;
Helpful conversion charts for both volume and weight;
A detailed index to quickly find the recipe you're looking for.
About the Author
---
America's Test Kitchen is well-known across its top-rated television shows with more than 4 million weekly PBS viewers, bestselling cookbooks, magazines, and cooking schools. The highly reputable and recognizable brands of America's Test Kitchen, Cook's Illustrated, Cook's Country, and Cook's Science are the work of over 60 passionate chefs based in Boston, Massachusetts who put ingredients, cookware, equipment and recipes through objective, rigorous testing to identify the very best. Discover, learn, and expand your cooking repertoire with Julia Collin Davison, Bridget Lancaster, Dan Souza, Lisa McManus, and our fabulous team of test cooks!