Let's Visit Reykjavik!: Adventures of Bella & Harry (Hardcover)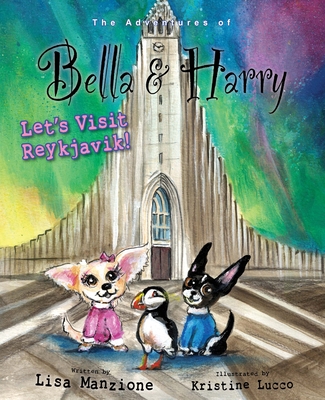 Other Books in Series
This is book number 24 in the Adventures of Bella & Harry series.
Description
---
Join sibling Chihuahuas, Bella and Harry, as they travel to Reykjavik and visit Jokulsarlon Glacier Lagoon, Thingvellir National Park, Gullfoss Waterfall, Strokkur Geyser, Langjokull Glacier and other fun places.
Come along with us as we explore this volcanic island and experience the Aurora Borealis (also known as the Northern Lights) and learn about tectonic plates. Along the way, enjoy local cuisine (fish stew) and learn basic Icelandic phrases.
The Adventures of Bella & Harry is a children's book series that chronicles the escapades of a pup named Bella, her little brother Harry and their family, who travel the world exploring the sights and sounds of new, exciting cities. The Bella & Harry series is an informative, interactive and exciting way to introduce children to travel, different countries, customs, history and landmarks with the educational value of this book cleverly disguised amidst dozens of illustrated pages which are sure to win the hearts of young readers.
Please visit our website for coloring pages, lesson plans and other suggested extensions to accompany this title. Reading levels and other metrics are also available on the website. As our titles span cities all over the globe, think of the Bella and Harry series as the perfect starting point (or companion piece) for many homeschooling lessons. Each book offers a brief overview of different areas around the world allowing you and your child the opportunity to explore the world from the comfort of your own home.
Additional support materials (activities), with varying levels of difficulty, can be found on the Reading is Fundamental (RIF) website in their Literacy Central section.
Traveling the world with these two cute and cuddly Chihuahuas allows the young reader to gain an appreciation of the world and its cultural diversity.
Happy Travels from Bella Boo and Harry too.