The Dismal Science: A Novel (Paperback)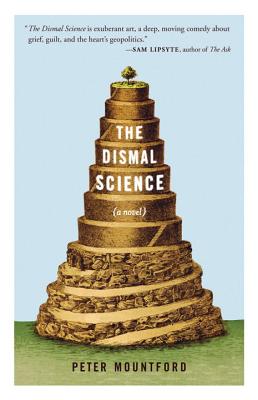 $15.95
Special Order—Subject to Availability
Description
---
Mountford's follow up to A Young Man's Guide to Late Capitalism is at once a cogent political drama and an acute meditation on the fragile nature of identity.
he Dismal Science tells of a middle-aged vice president at the World Bank, Vincenzo D'Orsi, who publicly quits his job over a seemingly minor argument with a colleague. A scandal inevitably ensues, and he systematically burns every bridge to his former life. After abandoning his career, Vincenzo, a recent widower, is at a complete loss as to what to do with himself. The story follows his efforts to rebuild his identity without a vocation or the company of his wife. An exploration of the fragile nature of identity, The Dismal Science reveals the terrifying speed with which a person's sense of self can be annihilated. It is at once a study of a man attempting to apply his reason to the muddle of life and a book about how that same ostensible rationality, and the mathematics of finance in particular, operates—with similarly dubious results—in our world.
About the Author
---
Peter Mountford's debut novel, A Young Man's Guide to Late Capitalism, was the winner of the Washington State Book Award and a finalist for the VCU Cabell First Novelist Award. NPR.ORG selected it for the "Books We Like" series, the Daily Beast picked it as a "great summer read," and the editors at Kindle named it one of the most exciting books of the season; it was also featured in the New York Times Magazine, Vanity Fair, Town and Country, Interview, and the Wall Street Journal, among other venues.

Mountford's work on The Dismal Science has won grants from 4Culture, Seattle's Office of Arts and Cultural Affairs, and the Elizabeth George Foundation. The Corporation of Yaddo awarded him its 2010 Wallace Fellowship for a Distinguished Writer so that he could work on the book. His short fiction and essays have appeared in the Atlantic, Best New American Voices 2008, Conjunctions, Salon, Granta, ZYZZYVA, and the Boston Review. He's currently a writer-in-residence at the Richard Hugo House and at Seattle Arts and Lectures. He lives in Seattle, Washington.
Praise For…
---
"Mountford has written a distinctively entertaining novel that illuminates the spiritual odyssey of a contemporary Dodsworth."
Starred Publishers Weekly

"A savvy, fast-paced novel . . . a bracingly intelligent novel."
Kirkus

"Mountford pulls off impressive feats of empathy: he creates compelling characters out of self-interested economists, and makes the nuances of financial policythe "dismal science" of the book's titleaccessible to lay readers."
The Collagist

"A novel about identity, rationality and starting over, Mountford's book follows a former VP at the World Bank as he tries to rebuild his life following a series of scandals and losses."
Time Out Chicago

"Mountford's wry look at middle-aged identity and transition is a sardonic yet sobering portrait of what happens when a man living a life too narrowly becomes confounded when confronted with too many choices."
Booklist

"A simmering new novel about the underside of global finance . . . . [The Dismal Science's] exploration of a man who can't seem to find his way out of darkness partly of his own making has a beauty that is as delicate as the fleeting hope in Vincenzo's story."
Seattle Times

"The Dismal Science is a phenomenal book."
The Stranger

"Forget the brainy financial prognostications of Don DeLillo; in Mountford's stories, capitalism hits you in the gut. Bankers and novelists unite!"
Fiction Advocate

The Dismal Science is exuberant art, a deep, moving comedy about grief, guilt, and the heart's geopolitics. Mountford writes with soul and style and makes the plight of his protagonist count."
Sam Lipsyte, New York Times bestselling author of The Ask

"Quietly wrenching, sharply drawn and completely un-put-downable. With The Dismal Science, Peter Mountford asserts himself as our generation's most significant business-world ombudsman. A deft and unflinching exponent of the human side of a polarizing world few of us actually understand."
Tea Obreht, New York Times bestselling author of The Tiger's Wife

In his fiercely intelligent second novel (after A Young Man's Guide to Late Capitalism), Mountford examines, with wry humor and sympathy leavened with a realistic accounting of Vincenzo d'Orsi's flaws and failings, the repercussions of a decision made in haste andperhapsregretted at leisure. Or not regretted. Who could have ever predicted that an economist at the World Bank could be such a terrific main character? I absolutely loved The Dismal Science."
Nancy Pearl, NPR commentator and author of the Book Lust series

"Peter Mountford's elegantly written The Dismal Sciencean advance on his superb first novelis an extremely impressive imagining by a relatively young writer into a relatively old man's life. It also is a brilliant extrapolation of the economist's 'dismal science' into a metaphor for the difficult fate of any living, breathing, dying human being."
David Shields, New York Times bestselling of The Thing About Life Is That One Day You'll Be Dead

The Dismal Science is a beautiful novel: stark, powerful, and life-affirming. Vincenzo's haunting journey will stay with me for a very, very long time."
Garth Stein, New York Times bestselling author of The Art of Racing in the Rain



REVIEWS AND PRAISE FOR A YOUNG MAN'S GUIDE TO LATE CAPITALISM

"Peter Mountford's striking debut novel is a smart and entertaining book. Set near the peak of the financial bubble in 2005, the book charts the story of a young financial journalist, Gabriel de Boya, recently hired as an analyst for a notoriously unscrupulous hedge fund. Gabriel's first mission is a test of his abilities: go to Bolivia and find a way to profit from the Bolivian presidential election. In Gabriel, Mountford creates a complex, charismatic, and engaging character, a chameleon who works himself into increasingly precarious positions as his mission is both facilitated and complicated by his love affair with the Bolivian president-elect's press liaison.

In Mountford's novel, the stakes of international finance and the personal lives of those involved intersect in a beautifully drawn Bolivia. A Young Man's Guide to Late Capitalism accomplishes that rare trick of being a book of ideas and politics while remaining, at its core, a profoundly intimate, character-driven story and a tremendously good read.
I highly recommend this captivating debut novel by a remarkably promising young writer."
Garth Stein, author of The Art of Racing in the Rain in a guest author review for Amazon.com


"A Young Man's Guide to Late Capitalism is a terrific debut novelsmart, moving, beautifully written. Peter Mountford's parable of the voracious global economy reminded me of Graham Greene's The Quiet American in its clear-eyed depiction of the realpolitik of our age."
Jess Walter, author of Beautiful Ruins


"A Young Man's Guide to Late Capitalism is, quite simply, one of the most compelling and thought-provoking novels I've read in years. It's extraordinarily vivid, populated by characters whose fates I cared about desperately, beautifully written, timely beyond measure, but above all it conveyswith impressive precision and nuancehow we are vectors on the grid of global capital; how difficult it is to even attempt to be an authentic, let alone admirable, human being when we are, first and last, cash flow."
David Shields, author of Reality Hunger: A Manifesto and The Thing About Life Is That One Day You'll Be Dead


"Peter Mountford, in his amazing debut as a novelist, has updated the gilded myth of Wall Street swashbucklers in expensive suits and spun it out into the world in a hellbent tale, dramatizing the contorted rationalizations practiced by the financial elite to justify their self-delusion. Forget fame, respect, making the world a better place. Transcend the craving for money by acquiring a truckload of it. Buddha as a hedge fund operator, reallocating soullessness throughout the system."
Bob Shacochis, author of Swimming in the Volcano and The Next New World


"A Young Man's Guide to Late Capitalism is a brilliant debut novel, one that is generous in giving readers an original cast of vividly-drawn and unforgettable characters, learned in its knowledge of the interwoven worlds of finance and politics, sexy, and thoroughly cosmopolitan. Peter Mountford is easily one of the most gifted and skillful young writers, already accomplished, I have had the pleasure of reading in many years."
Charles Johnson, author of Middle Passage and Dreamer


"In his debut novel, A Young Man's Guide to Late Capitalism, Peter Mountford has something important to say about the ambiguous moral ground where the personal meets the political. He has experience and sophistication beyond his years and is well-positioned to mine this vein. This novel is worth your time and attention."
David Guterson, author of Snow Falling on Cedars


"Peter Mountford's A Young Man's Guide to Late Capitalism is a sharp, funny and terrifying novelin a world so much like our own (part of the terror: it may, in fact, be our world), Gabriel's actions and the reactions of those around him caused me to wonder, again and again: how do I wish to live in this world, and what latitude might I find?"
Peter Rock, author of My Abandonment


This expat novel set in Bolivia covers high finance, politics, and morality. It takes on the issues of our times better than any book we've read in years."
Citation for a Nobbie" award for a best book of 2011, from The Nervous Breakdown


"This is Mountford's triumph: he has created a commentary on contemporary economics that is as moving and genuine as it is biting and satirical . . . A Young Man's Guide to Late Capitalism will be remembered as a touchstone work of the Era of Twenty-First Century Economic Crises."
Raphaela Weissman for Bookslut


"Compulsively readable . . . Daringly allegorical and written with apt understatement, A Young Man's Guide to Late Capitalism appears as a Trojan horse within the realm of contemporary literary fiction. Mountford has the courage to depict a world in which personal lives aren't really that personal."
Chris Kraus in the Los Angeles Review of Books


"Debut novels don't come much savvier, punchier, or more entertaining than [A Young Man's Guide to Late Capitalism]."
Michael Upchurch in the Seattle Times


"Several things set Peter Mountford's impressive debut, A Young Man's Guide to Late Capitalism, apart from the few finance-driven novels that have emerged in the wake of the economic meltdown."
Jessica Loudis for NPR.ORG


"What a miraculous thing Mountford has done. Gabriel is right on both counts. And wrong. That polarity crackles in the heart of this novel, which is neither afraid to feel deep sympathy for its tragic protagonist nor hesitant to judge him harshly."
Alexander Yates in the Kenyon Review


"Mountford's powerful novel avoids easy judgements as it explores how money can take over one's life."
Mark Athitakis in Minneapolis Star-Tribune


"In this dazzling debut novel, Mountford displays a gift for characterization and a sure-footed grasp of financial matters that enable him to guide a reader nimbly through the arcane vernacular of Wall Street."
New Jersey Star Ledger


"In his powerfully-written, quick-paced, and timely debut, Mountford shines a hard light on today's frantic financial amphitheatera place where morality is secondary to making a dollar and large companies can sabotage entire countries."
Greg Brown in The Rumpus


"This is quite simply one of the smartest and most readable debuts I've come across in years. Mountford is a writer who rolls up his sleeves and digs into the zeitgeist all the way up to his elbows. He's fearless in his depiction of world leaders, global events, and the oft-ignored gray areas between morality and success."
Tyler McMahon for Fiction Writers Review


"Peter Mountford's debut novel speeds off, down the crowded streets of La Paz. If Graham Greene and Gordon Gekko collaborated on a South American travelogue, it would go something like this . . . It turns out 'international markets and their political underpinnings' can be fun to read about, after all."
Fiction Advocate


"The novel is a latter-day Graham Greene adventure, where a young protagonist in a foreign land becomes deeply embroiled in financial (instead of Greene's political) espionage, and must make decisions that will affect the course of his own life as well as his host nation's. This novel won great reviews, but may have slipped under your radar on its release in May of 2011."
St. Louis Country Library