Spurious: A Novel (Paperback)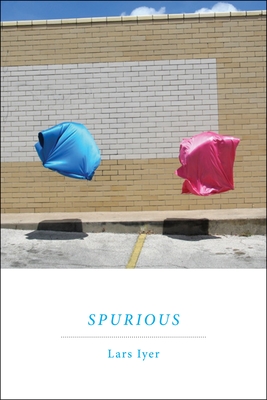 $14.95

Not On Our Shelves—Ships in 1-5 Days
Description
---
In a raucous debut that summons up Britain's fabled Goon Squad comedies, writer and philosopher Lars Iyer tells the story of someone very like himself with a "slightly more successful" friend and their journeys in search of more palatable literary conferences and better gin. One reason for their journeys: the narrator's home is slowly being taken over by a fungus that no one seems to know what to do about.

Before it completely swallows his house, the narrator feels compelled to solve some major philosophical questions (such as "Why?") and the meaning of his urge to write, as well as the source of the fungus ... before it is too late. Or, he has to move.
About the Author
---
Lars Iyer is a lecturer in philosophy at the University of Newcastle. He is the author of two books on Blanchot (Blanchot's Communism: Art, Philosophy and the Political and Blanchot's Vigilance: Literature, Phenomenology and the Ethical) and his blog Spurious. He is also a contributor to Britain's leading literary blog, Ready, Steady, Book.
Praise For…
---
"A tiny marvel of comically repetitive gloomery.... [A] wonderfully monstrous creation."  
—Steven Poole, The Guardian

"Viciously funny."
—San Francisco Chronicle

"The high value Iyer places on essential human relations is a rebuke to those who deride 'experimental' fiction as narcissistic or self-indulgent evasions of emotion."
—The New Inquiry

"What could be more fun than laughing at intellectuals? This, Lars Iyer's first book, sprang from his blog, Spurious, which sprang from his career as a philosophy lecturer at Newcastle University. I'm still laughing, and it's days later. But who, exactly, am I laughing at?"
—The Los Angeles Times

"Ought to be unreadable, but manages to be intelligent, wildly entertaining, and unexpectedly moving instead."
—The Millions

"Who should buy this book? Intellectuals who face intellectual troubles in their own lives. There's a lot of biting satire about the shortcomings and general foolishness of the so-called life of the mind. This is graduate student wit, which is fearsomely funny."
—The Washington Post

"[A] hilarious and eminently quotable debut novel."
—Modern Painters

"A tragic mein... undercuts the sheer hilarity of Lars Iyer's Spurious....A narrative My Dinner With Andre turned on end.... To read Spurious is to discuss Kafka's The Castle and farts in one exacting sentence--all the while reeking of gin." 
—NYLON Magazine

"Evoking literary duos like Don Quixote and Sancho Panza, and Othello and Iago, Iyer's portrait of two insufferable academics fumbling for enlightenment illustrates what the author comically calls the most honorable cruelty: friendship....Solipsistic and chatty, Spurious is a comedy in the vein of Bernhard's The Loser or Beckett's The Unnameable. Echoes of "You must go on, I can't go on, I'll go on" haunt every scene."
—Bookforum

"Spurious is an amusing take on intellectual frustration and anomie, its two characters going through the motions in a world where it's unclear what the right motions are any longer."
—The Complete Review

"Few writers can make personal gloom, the pervasive amorality of capitalism, cataclysmic climate change and the apocalypse comical, but Lars Iyer is one. Yet his lightness is deceptive. While Spurious may seem like Laurel & Hardy at the End of Times, it is also a profound philosophical rhapsody playing out the culmination of the religious narratives of East and West."
—Stephen Mitchelmore

"Iyer's playfully cerebral debut [is]... piquant, often hilarious, and gutsy."
—Publisher's Weekly

"There's always Spurious, a new comic novel by Lars Iyer, a lecturer in philosophy at Newcastle University. Official plot summary: 'Two yammering intellectuals ponder life and the fungus taking over one of their homes.'"
—The New York Times Book Review

"In W. and Lars, Iyer has given us not so much Brod and Brod but a pair of hilarious and entertaining Quixotes - you're unlikely to find more diverting philosophers anywhere."
—The Daily Herald