A Sun for the Dying (Paperback)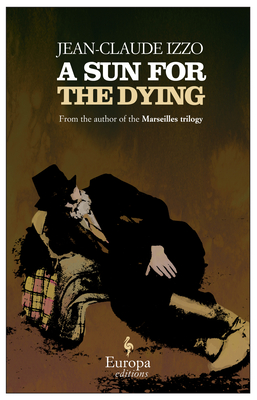 Description
---
From the author of the Marseilles Trilogy

A year before his untimely death, Jean-Claude Izzo penned his masterpiece: this dramatic story of a man's search for human intimacy. 

Rico has been banished to society's margins: he has neither a roof over his head nor a steady income on which to depend. When a friend and fellow vagabond dies of exposure after a night spent in the Paris metro, Rico decides to flee the northern cold for his beloved south, for Marseilles and the warmth of the Mediterranean. Diverted and hindered along the way, he suffers the vagaries of human cruelty and pettiness, and is warmed by occasional, fleeting instances of human tenderness. His return to the Mediterranean and a pilgrimage in search of lost love, innocence, and humanity.

From the celebrated author of the Marseilles trilogy, this is both an affecting on-the-road novel and a tender exploration of love's power both to heal and to destroy.
About the Author
---
Jean-Claude Izzo achieved immediate success with his Marseilles trilogy (Total Chaos, Chourmo, Solea) published in English by Europa Editions from 2005 to 2007. He is also the author of The Lost Sailors (Europa Editions, 2007) and is widely credited with being the founder of the Mediterranean noir movement. Izzo died in 2000, at the age of fifty-five.
Praise For…
---
Praise for A Sun for the Dying

"Our last true romantic, Jean-Claude Izzo transmits warmth to his readers, as if granting them a mouthful of pure love. A Sun for the Dying is beautiful, like a black sun, tragic and desperate."
—Le Point (France)

"Jean-Claude Izzo knew how to recount stories of intense love found and lost, of the sea and the sun and their perfumes–above all the blue Mediterranean of Marseilles—of the lives of forsaken tramps who wander the streets begging 'please, can you spare a little sun.'"—La Repubblica (Italy)


Praise for Jean-Claude Izzo

"Izzo digs deep into what makes men weep."—Time Out New York

"Izzo writes candidly about European racial politics, and his characters brood intriguingly."
—Publishers Weekly

"What makes [Izzo's] work haunting is his extraordinary ability to convey the tastes and smells of Marseilles, and the way memory and obligation dog every step his hero takes."—The New Yorker

"Izzo's Marseilles is ravishing. Every street, cafe and house has it's own character."—Globe and Mail