Don't Think of an Elephant! & How Democrats and Progressives Can Win (Book & DVD Bundle) [With DVD] (Paperback)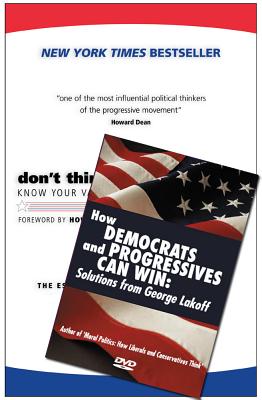 $22.50

Special Order—Subject to Availability
Description
---
Don't Think of an Elephant is the definitive handbook for understanding what happened in the 2004 election and communicating effectively about key issues facing America today. Author George Lakoff has become a key advisor to the Democratic party, helping them develop their message and frame the political debate.
In this book Lakoff explains how conservatives think, and how to counter their arguments. He outlines in detail the traditional American values that progressives hold, but are often unable to articulate. Lakoff also breaks down the ways in which conservatives have framed the issues, and provides examples of how progressives can reframe the debate.
Lakoff's years of research and work with environmental and political leaders have been distilled into this essential guide, which shows progressives how to think in terms of values instead of programs, and why people vote their values and identities, often against their best interests.
Don't Think of An Elephant is the antidote to the last forty years of conservative strategizing and the right wing's stranglehold on political dialogue in the United States.
Read it, take action--and help take America back.
How Democrats and Progressives Can Win (DVD) features a lively interview with George Lakoff, television news clips, and illustrative graphics, this is a must-see media tool for everyone who wants to better understand and communicate the progressive agenda. Includes "How to Debate a Conservative," "Know Your Values," and much more. Each DVD includes a summary card of key points. Produced by Educate the Base, LLC.