My Coping Skills Handbook: 4 Steps for Kids to C.O.P.E. with Everyday Challenges (Paperback)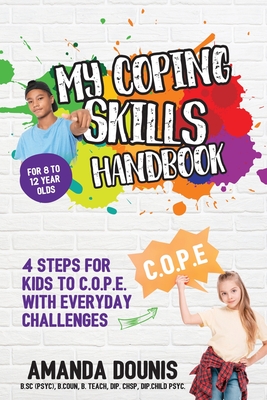 $18.99

Not On Our Shelves—Ships in 1-5 Days
(This book cannot be returned.)
Description
---
Hey Kids, imagine being able to cope with just about anything.
This book gives you your very own coping skills for everyday challenges.
Do you worry about the smallest things?
Do things that happen at school or at home affect your happiness?
Do you feel upset sometimes about what people say or do?
Do you sometimes get 'stuck' in sadness and find it difficult to move away from it?
Do you get angry and do or say things you wish you could take back?
After you read this book you will be able to use the amazing C.O.P.E. formula anytime to cope with anything. You will feel in control, happier and no longer afraid or worried about facing any challenge because - this is your handbook to cope.
Don't cop it Let's C.O.P.E. with it
"Amanda made my daughter feel at ease straight away. She helped her become that happy, confident girl that she once was." Irene Xakiss