Air Fryer Cookbook Side Dishes: Fast and Simple to Eat Healthier (Hardcover)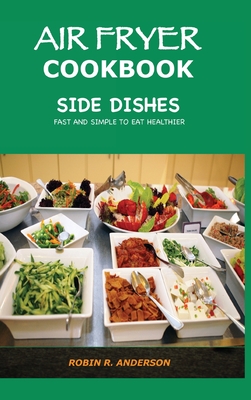 $36.99

Not On Our Shelves—Ships in 1-5 Days
Description
---
Color Edition
Looking for sides that steal the show?
Quit worrying
We've got you covered: from simple grains and veggies to decadent, bacon-topped creations.
No matter what the season or the main dish, there's a perfect side in here for you.
This cookbook contains handpicked recipes and you'll learn how to not only start, but love, your Air Fryer, which will guide you to amazing meals in the most affordable, quick & easy way possible.
Many health sources recommend air frying as an alternative cooking method for dieters hoping to eat the foods they love in a
healthier way
This now book gives you dozens of recipes that will help you get the most from your air fryer with delicious dishes like:
Lemon-Garlic Mushrooms with Red Pepper
Brussels Sprouts with Bacon and Smoked Paprika
Crispy Baked Avocado Tacos
Garlic Roasted Broccoli Red Pepper
Buttery Green Beans with Parmesan
Mozzarella Rolls
Air Fryer Crispy Artichoke Hearts
Keto Fried Green Tomatoes
and much more
Even If you're going to splurge on take-out, at least supplement it with a home-cooked, healthy side.
With these recipes you will be allowing your customers to show off in front of their family and friends with delicious meals.
Buy NOW this amazing book.