We're following all official guidelines to keep ourselves healthy on the job, and as a result, shipping may be delayed.
You will receive an email from our web orders team confirming that your order has been processed.
We thank you for your support and your patience at this challenging time.
Darkly: Black History and America's Gothic Soul (Paperback)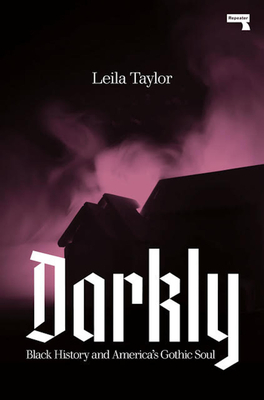 Description
---
Leila Taylor takes us into the dark heart of the American gothic, analysing the ways it relates to race in America in the twenty-first century.

Haunted houses, bitter revenants and muffled heartbeats under floorboards -- the American gothic is a macabre tale based on a true story.

Part memoir and part cultural critique, Darkly: Blackness and America's Gothic Soul explores American culture's inevitable gothicity in the traces left from chattel slavery. The persistence of white supremacy and the ubiquity of Black death feeds a national culture of terror and a perpetual undercurrent of mourning.

If the gothic narrative is metabolized fear, if the goth aesthetic is romanticized melancholy, what does that look and sound like in Black America?
About the Author
---
Leila Taylor is a former goth kid and current Creative Director at Brooklyn Public Library. She's given talks at the International Gothic Association and the Morbid Anatomy Museum, has an MFA in Graphic Design from Yale University and an MA in Liberal Studies from The New School of Social Research. This is her first book.
Praise For…
---
"I am struck by the depth of Leila Taylor's vision. The generosity shown in the way a history (and present) is illuminated. This book does so much beautiful work to widen the expectations and understandings of blackness, and I am immensely thankful for it."
— Hanif Abdurraqib, author of Go Ahead in the Rain: Notes to a Tribe Called Quest and They Can't Kill Us Until they Kill Us

"A powerful and deeply personal exploration of what it means to be an outsider within an outsider culture. Between the black aesthetic of goth culture and the Blackness of America, Leila Taylor navigates seamlessly between cultural critique, personal history, and a history of America's troubled past in writing that is incessant, curious, and generous, and a voice that is at turns both searing and vulnerable. Powerful and strange, uncanny and unforgettable." — Colin Dickey, author of Ghostland


"Takes us on a path that connects the Middle Ages, Edgar Allen Poe, the Trans-Atlantic slave trade, Afropunk, Prince, Black Lives Matter, and Hot Topic. It's an incredible journey..." — Baratunde Thurston


"Fascinating. A revelatory exploration of blackness, goth culture and the ramifications of inherited trauma."—Irenosen Okojie

"A rare glimpse into American gothic from an African American perspective."—Library Journal