Happy Days!: A Humorous Narrative in Drawings of the Progress of American Arms 1917-1919 (Hardcover)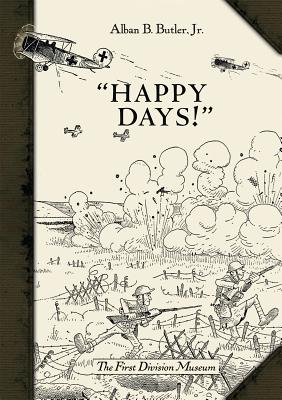 Description
---
Originally published on the ten-year anniversary of the Armistice, "Happy Days " features a collection of more than 100 original cartoons drawn by noted illustrator Cpt. Alban B. Butler, Jr., who served as aide-de-camp for Major General Charles Pelot Summerall in 1918. Butler chronicled his tour of duty by creating scores of cartoons that capture life in the trenches of World War I. Butler donated his drawings and sketches to the Society of the First Division AEF (now The First Division Museum), which published them in 1928.
These images, at once humorous and touching, saucy and direct, capture the events of France in spring 1918. Today, many of these images might well seem politically incorrect. Some even might call them offensive. But, taken in context, Butler's cartoons reveal the stress, struggles, and situations that grunts dealt with every day. From dealing with language barriers, foreign foods, and alien customs to waiting for the German offensive and fighting in the trenches, Butler captures the tenor of life for American GI's during the Great War.
Descriptive captions accompany each of Butler's panels, helping to put the images into context. The book features an original foreword by Major General Summerall and an original introduction by the SFD. This edition also will feature a new preface from the First Division Museum. It will make a perfect gift for collectors and humorists alike.
About the Author
---
The First Division Museum (Wheaton, Illinois) is part of The Cantigny First Division Foundation, a private, nonprofit organization that serves to preserve, interpret, and present the history of the 1st Infantry Division in the context of American military history and affairs. The museum hosts more than 110,000 visitors each year, and the foundation reaches another 300,000 through its publishing program, parades with its historic military vehicles, guest speakers, radio and television broadcasts, history trunks to schools, and other programs.
Praise For…
---
"5 stars. These cartoons are eye opening in that they show both the action side of being a soldier and the more mundane. From standing in mud, to trying to cross barbed wire. His cartoons are often hilarious and informative." - Kevin Winter, San Francisco Book Review

"It is an excellent read and a look at times gone by, along with the men who served. Most highly recommended." - Scott Van Aken, Modelling Madness 

"Saucy and direct, while at the sasme time humorous and touching, some of Captain Butler's cartoons in Happy Days! verge on today's political incorrectness ... Long out of print, Happy Days! is soemting of a collector's item..." - Military Review (January/February 2013)