All for Nothing (Paperback)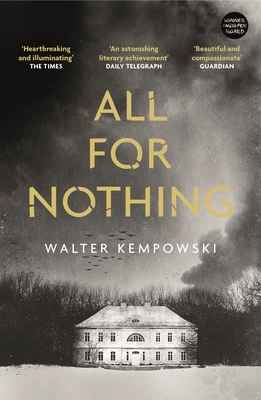 $11.99
Special Order—Subject to Availability
Description
---
In January 1945, the German army is retreating from the Russian advance. Germans are fleeing the occupied territories in their thousands, in cars and carts and on foot. But in a rural East Prussian manor house, the wealthy von Globig family seals itself off from the world.
Protected from the deprivation and chaos around them, they make no preparations to leave until a decision to harbour a stranger for the night begins their undoing. Finally joining the great trek west, the remaining members of the family face at last the catastrophic consequences of the war.
Profoundly evocative of the period, sympathetic yet painfully honest about the motivations of its characters, All for Nothing is a devastating portrait of the complicities and denials of the German people as the Third Reich comes to an end.
About the Author
---
WALTER KEMPOWSKI (1929 - 2007) was one of Germany's most important post-war writers. He is known for his acclaimed series of novels German Chronicles (Deutsche Chronik) and his immense, eight-volume collection of first-hand accounts of World War II, Echo Soundings (Das Echolot), the final volume of which, Swansong 1945, was published by Granta in English in 2014. His last novel All for Nothing (Alles Umsonst), a bestseller in Germany in 2006 and critically applauded, sealed his reputation. It is available here in translation for the first time.